The King Diamond story begins in Denmark. King was born Kim Bendix Petersen on June 14, 1956. In 1975, King was playing guitar in a cover band in Denmark called Brainstorm. He happen to see an Alice Cooper performance and became immediately intrigued with the idea of demonic makeup and wild stage shows. King, being unable to fully express himself, left Brainstorm to sing for a local act called Black Rose. It was while in Black Rose that the King Diamond character evolved. He began doing such stage antics as decapitating dolls filled with pig blood. But still he not satisfied with the Black Rose line up. In 1980 he made what was to be his most important career move. He joined a punk-metal band called Brats. It was while in Brats he met Hank Shermann (real name Rene Krolmark), Michael Denner, and Timi (Grabber) Hansen. Brats soon disbanded and the four split into pairs. King and Hank went their way while Timi Hansen and Michael Denner went on to form Danger Zone. Michael Denner had asked King to help on out on Danger Zone's demo. With the four working together again, and the addition of Kim Ruzz, Mercyful Fate was born. Mercyful Fate went into the studio to record two demos, one of which became Curse Of The Pharaohs. They were an immediate underground hit.

England's Ebony Records entered the scene in the spring of 1982. They recorded two songs for the Metallic Storm compilation, Black Funeral and Walking Back To Hell. The latter was never released but ended up in a new version as A Dangerous Meeting on DON'T BREAK THE OATH.

In September of 1982, Mercyful Fate went into the studio signed to a new Dutch label called Rave-On Records. In two days the band recorded their now classic first EP. Although untitled, fans refer to the EP as NUNS HAVE NO FUN.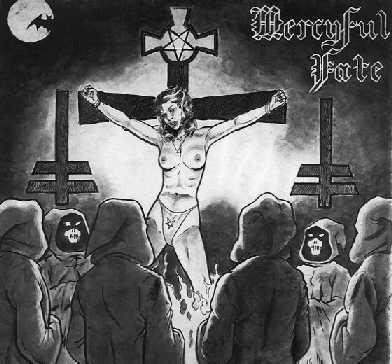 The EP got rave reviews from the underground press and even landed the band a spot to record three (Evil, Curse of the Pharaohs, and Satan's Fall) tracks for the BBC Friday Rock show in April of 1983. Then in July of 1983 Roadrunner Records entered the picture and signed the band to a new recording deal. In November the first Mercyful Fate album was released. MELISSA, titled after a skull that the band used, brought them further out from the underground scene.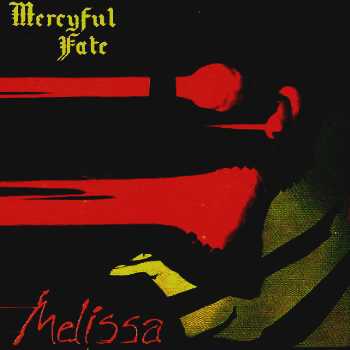 In May of 1984, the band entered the studio to record the follow up to MELISSA. The result was DON'T BREAK THE OATH. Although a much more solid effort and finally some touring in the States, the direction of the band became a source of conflict between King and Hank Shermann. This eventually led to the breakup of the band.

Now King was faced with the task of forming his own solo band. He brought along Michael Denner and Timi Hansen from Mercyful Fate. He also hired drummer Mikkey Dee from Geisha and guitarist Floyd Konstantin (who may also have been from Geisha). Floyd Konstantin could not live up to King's high standards and was let go before recording with the band. He may have even played a few gigs with King. Enter Andy La Rocque (real name Anders Allhage) from EF Band. The classic King Diamond line up was complete.





It was the Christmas season in 1985 when King introduced the world to King Diamond. NO PRESENTS FOR CHRISTMAS was released as a 12" single with Charon on the b-side. In April of 1986 the first full length King Diamond album was released under the title FATAL PORTRAIT. This album was a departure from the Satanic themes used on the Mercyful Fate albums. This was King's first attempt to like songs together as a concept (The Candle, The Jonah, and The Portrait). The album was successful in retaining the Mercyful Fate fans as well as attract new fans but it was the next album, ABIGAIL that proved King could conquer all aspects of songwriting. This was King's first full concept album taking the listener to new heights of horror. Unfortunately, this would be Michael Denner and Timi Hansen's last album with King. Michael Denner left the band before the tour and was replaced, briefly, by Michael Moon. Michael Moon was quickly replaced by Pete Blakk. Timi Hansen left the band after the tour to be with his family. He was replaced by Hal Patino.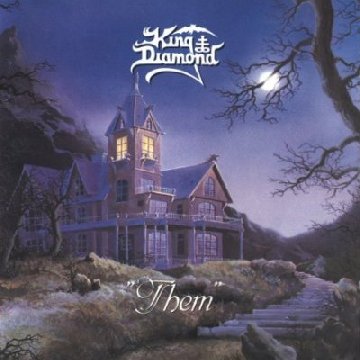 With his new line up intact, King was now ready to record one of his most elaborate concept albums ever. THEM was released in June 1988. The album and tour was King's most successful and the video for Welcome Home was getting MTV airplay on Headbangers Ball. All seemed to be going King's way. Unfortunately, another long time member of the band left. Mikkey Dee left the band before the recording of CONSPIRACY. Chris Whitemeier, Dee's replacement, was not able to live up to King's high standards and was soon axed from the line up. Mikkey Dee was hired as a session drummer to complete the album. CONSPIRACY was the continuation of the story told on THEM. Snowy Shaw was Mikkey Dee's replacement on the tour in support of CONSPIRACY.

THE EYE was released in October of 1990. This album saw contributions from Snowy Shaw and Pete Blakk as far as songwriting. This was to be King's last studio album for Roadrunner Records. It would also prove to be the last King album with Pete Blakk and Hal Patino. Patino and Blakk were axed from the line up.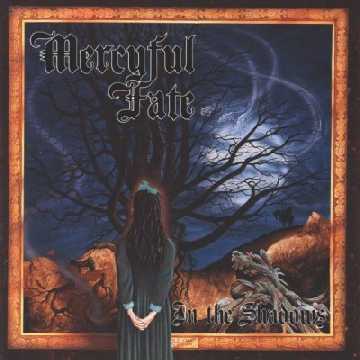 King had no record deal and only one member in his solo band. King (now living in Dallas, Texas) heard that Hank Shermann and Michael Denner were playing together in a band called Zoser Mez. King heard that Hank was writing music that King would like to hear. The result was a Mercyful Fate reunion with all original members excpet Kim Ruzz who was quoted as saying that he was happy being a postal worker. He was replaced by Snowy Shaw. Mercyful Fate was signed to Metal Blade Records as well as King Diamond. The result was IN THE SHADOWS. A tour followed but Timi Hansen left the band again to be with his family. Sharlee D'Angelo replaced him. Funny but during the recording of IN THE SHADOWS, the line up for King Diamond consisted of Sharlee D'Angelo and Mike Wead although they never recorded together.

Mercyful Fate went into the studio in May, 1994 to record TIME. This time another band member had left the band. Snowy Shaw was replaced by Bjarne T. Holm for the tour in support of TIME.

King went into the studio in September, 1994 with a new King Diamond line up and new record label to record the first King Diamond since 1990. Andy La Rocque was still in the line up with the rest being newcomers. Chris Estes on bass, Her Simonsen on guitars, and Darrin Anthony on drums. The result was THE SPIDERS LULLABYE.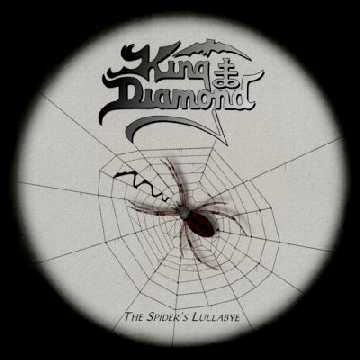 After King came off the road with Mercyful Fate he began recording the Mercyful Fate album INTO THE UNKNOWN in January of 1996. In March of 1996 he began the recording the next King Diamond album THE GRAVEYARD. King initially wanted to tour with both bands in the US but promoters discouraged him from doing that due to the sad state of music in the US. So instead King went on tour with Mercyful Fate. Michael Denner would not make this tour. Instead he would be replaced by Mike Wead (Candlemass, Momento Mori, Hexenhaus). The US Mercyful Fate tour was cut short due to King becoming seriously ill.

King fully recovered from a terrible case of the flu and fatique and went on tour with both bands in Europe. During that tour, Darrin Anthony became injured and was replaced by John Luke Hébert from Louisiana.

With King back home and enjoying good health, he was ready to go back into the studio to record two new albums. King started to record the King Diamond album VOODOO in July of 1997 then immediately began recording the Mercyful Fate album DEAD AGAIN. Then in mid April of 1998, King finally went on tour in the US as King Diamond. It was the first time since 1989 that King played the states with his solo band. The tour featured a full stage show with a hired actress. Herb Simonsen did not tour due to personal reasons and was replaced by a Canadian by the name of Glen Drover. The tour was great and King sounded better than ever. In July of 1998, Mercyful Fate launched a US tour. It was a great show and once again the band sounded as tight as ever. Keeping busy, King and Mercyful Fate did a full U.S. tour to support DEAD AGAIN.

In the Winter of 1999, Mercyful Fate entered the studio to record 9. Leaning in a more Satanic direction, 9 was an excellent album. The cover art was done by the same person who did DONT BREAK THE OATH and the album was released on June 18, 1999. A late summer/autumn tour followed and King was sounding better than ever. It seems that King was going full steam with both King Diamond and Mercyful Fate.

In the solo King Diamond department, King once again replaced another member of the band. Chris Estes is out and was replaced by David Harbour who has been in alot of bands including guitar GOD David Chastain. They entered the studio in the winter of 2000 to record HOUSE OF GOD. A killer album and King pulls no punches. Once again, a concept album, HOUSE OF GOD proves that after 20+ years, King can still create incredible music.

It was also around this time that King decided that he would release a recording of a rehearsal of Black Rose...his pre-Mercyful Fate band. The result was the album KING DIAMOND AND BLACK ROSE 20 YEARS AGO (A NIGHT OF REHEARSAL). It was a success with King fans and and essential album for any fan of King. The album sheds a lot of light on the rise of King's vocal style as well as his musical roots.





Once again, King was plagued by line up instability. Glen Drover was out to concentrate on his own band Eidelon that he had with his brother Shawn. Both Shawn and Glen would eventually be part of the Megadeth reunion album and tour. To take his place King brought Mike Wead from Mercyful Fate. David Harbour was also out and was replaced by none other than Hal Patino. John Luke Hébert was also out and he was replaced by Matt Thompson.





Now with a new line up, King decided that it was time to raise the spirit of ABIGAIL out of the ashes. King had long wanted to compose a sequal to Abigail and thought the time was right. King entered the studio (which actually was his house) in late 2001 to record ABIGAIL II: THE REVENGE. Released in early 2002, the album was a smashing success to both fans and critics alike. It also showed King's new line up was as solid as any in King's career. King did not tour to support the new album but, instead, went right back into the sudio to record his next album.

With a stable line up King recorded one of his most eerie and chilling albums...THE PUPPET MASTER. With this album, King decided to do something never before done on a King Diamond album. King had met and married a young Hungarian lady named Livia Zita. King also discovered that his new wife had a beautiful singing voice so he decided to include her on backing vovcals on THE PUPPET MASTER. Released in late 2003, once again King released a masterpiece that was a hit with critics and fans. Not sure how the addition of Livia to the line up would go over, fans accepted her with open arms. King would make her an addition to the line up for future recordings as well as touring.

King toured extensively for THE PUPPET MASTER and recorded every show of the U.S. tour. King thought it was time to release a live album worthy of King fans. Unlike IN CONCERT 1987 ABIGAIL, DEADLY LULLABYES LIVE had better sound quality and was much more polished....some even believed that it was too polished. However, no one can deny that this album showed that King was on top of the metal world and that this was also King's most stable line up to date.

Meanwhile, it appeared that Mercyful Fate was on hold. Hank Shermann, Michael Denner, and Bjorne T. Holme teamed up with Iron Fire vocalist Martin Steene to form Force Of Evil. King also took King Diamond back on the road for another U.S. tour in support DEADLY LULLABYES LIVE. However, King also became ill on that tour and appeared to be rather fatigued. King took a much needed break after that tour.




In late 2006, King was recording a new album. Once again, King used the vocal talents of Livia and the result was the 2007 release of GIVE ME YOUR SOUL...PLEASE. This proved to be one of King's most successful albums to date with a video for the song GIVE ME YOUR SOUL on regular rotation on MTV2 and King was even nominated for a Grammy for Best Metal Performance. Seemed as though King was on top of the world. Sadly, it was not be so. King had booked a massive U.S. tour with support from thrash giants KREATOR in 2008. The tour would not come to be. King began to suffer from a deteorating disc in his back which caused him severe pain while on tour in Europe. Doctors said that if King continued touring, he could do permanent damage...including paralysis. Sadly, King had to cancel all tours indefinitely.

King has kept busy during his hiatus from recording and touring. Mercyful Fate re-recorded the songs EVIL and CURSE OF THE PHARAOHS for the Metallica Guitar Hero game....with great success. King and Andy LaRocque are in the process of remastering and re-releasing THE SPIDERS LULLABYE, THE GRAVEYARD, VOODOO, and HOUSE OF GOD with bonus tracks, revamped artwork, etc.

King is also in the process of tranferring old live recordings of Mercyful Fate and King Diamond for possible DVD release. However, on November 29, 2010, King was taken to the hospital where tests revealed that King had had several heat attacks and needed triple bypass surgery. King underwent the surgery and has since quit smoking and his health continues to improve.

As of June 2012, King is slowly making a come back with a performance at the Swedish Rock Festival.