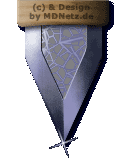 10.12.2001
I added three more reviews (one in Russian!), one interview, some links and an important notice: The Bands Battle Festival will take place one week earlier as announced before, so the final date is the 3.5. - 5.5. 2002! If you are interested in getting there, you have also the opportunity to buy some tickets directly from us; contact me:
Shaddowfox@t-online.de
Metallic greetings from Logarīs Diary to all of you!