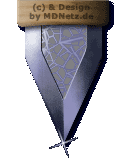 The Vault (SER)
???
All you lovers of fantasy power metal, pay attention because they're here - Logar's Diary! Besides from their work, these guys really have spirit. The band is consisted of following members: Hagen Hirschmann (vocals), Felix Gretzer (bass), Michael Kwandt (keyboards), Steven Schubert (rhythm guitar) and Christoph Uhl (lead & rhythm guitar). You'll notice there is no drummer. The entire album has a drum machine, which I consider to be a big minus, but well programming did the trick until they find a real drummer.
Through their lyrics, they follow the adventures of the magician Logar in the Earthdawn universe ("Earthdawn" is the famous fantasy role playing game for those of you who didn't know it), and the music together with the themes form a true adventure, which can be seen from the title of the album itself - "Book 1: Iostros".
It's good to mention that the guys are big fans of the bands like Running Wild, Gamma Ray and Blind Guardian, though they have their own style and, like Christoph said, they don't sound like any of the aforementioned bands. So, after the persistent Italians, Germany re-takes the place of the leader showing the world through their underground bands (besides Logar's Diary, I'd point out the fantastic Teutonic which by all means defends the honor of the famous German metal from that "magic time") that true metal is returning in all of it's glory! Hail!
Album clocks in around 50 minutes and contains 11 songs. If someone, after the first listen, states: "Well, this sounds exactly like Rhapsody" - yes, let's say that it does, but if you really pay attention you'll see that this band has it's own style - Logar's Diary style. A real refreshment is that they haven't jumped a band wagon of those hordes of bands who still turn to Tolkien's creatures, but rather thought of Logar and Earthdawn world.
They all fit very well musically. Since this is a conceptual album, maybe I shouldn't 'dissect' it, but songs "Lonely On The Serpent River", "Travelling To The Blood Woods" and "Home Of The Traders - Barterstown" are really ahead of the others and you'll like them instantly because they're consisted of fine melodic riffing. Album has also one 'darker' tune "Demon In The Kaer" and a couple of beautiful ballads "Ti' An-A…", "My Love…", that are all well conceived leading the istener through the story. Album is closed by an instrumental made of brief excerpts from some (or all?) songs from this outing. Really, really beautiful.
So, this is one fine album, but since this is only their first one, I think that you'll hear more from this band and you, if you get the chance, get Logar's Diary album!
- Review by Maya "Savage" Stanimirovic