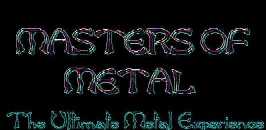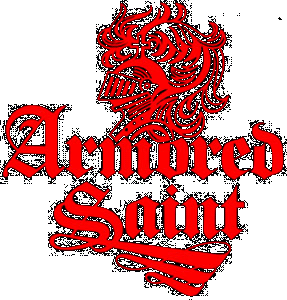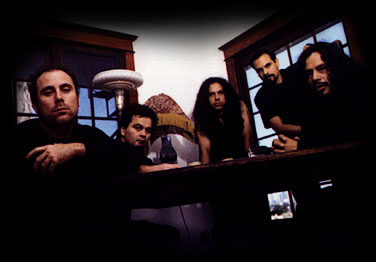 band members l to r: John Bush, Jeff Duncan, Gonzo, Joey Vera, Phil Sandoval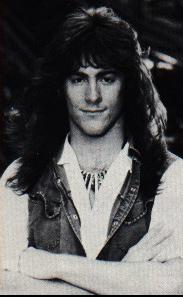 Dave Prichard "RIP"


BIO
The history of Los Angeles' Armored Saint reads like an episode of VH-1 Behind the Music.
Friends since the third grade,from the tough streets of East Los Angeles, bassist Joey Vera, vocalist John Bush and drummer Gonzo formed a musical bond early on, Armored Saint's fate was sealed early on when their first band in high school, Royal Decree won the battle of the bands. This however did not mean there would besuccess without adversity.
"Growing up we hated East LA, and couldn't wait to get out" comments Joey, "we never really fit in". It was John and Gonzo that were given the first opportunity to leave the urban jungle for more suburban surroundings. It would be in this new environment Mat May would meet future guitarist Dave Prichard. "We met Dave at a party. Gonzo and Phil (Gonzo's brother) jammed with Dave and asked John to join," remembers Joey. "Dave wanted me to jam but I thought he was a bit of geek", reminisces Bush, "I was pretty Pompous. They only kept me because I had PA, but the night I joined we wrote "Stricken By Fate", "You're Never gone" and "No Reason to Live," With the lineup secured, they started to make the move.
Fine-tuning their chops on the bourgeoning LA metal scene, line bond gigged with the likes of WASP and Metallica quickly gaining a reputation as one of LA's premier live acts. A track on the second instalment of the now famous Metal Massacre compilation series, which introduced Metallica to the word, led to an EP on Metal Blade. It was the excitement generated from the EP that landed Armored Saint a much-coveted major label deal with Chrysalis.While on Chrysalis the band released what would become legendary slabs of pure molten Metal and a blueprint for metal bands to come. Tours with Aerosmith,Judas Priest and Metallica soon followed. The legend was growing but superstar status was very elusive, causing, after three releases, the band to be dropped.
Armored Saint's a spirit never diminished.They quickly began writing and rehearsing now songs knowing that another deal would seen be within reach. They continued working until the unthinkable happened. Dave was diagnosed with leukemia. "At first we didn't know what it was. The more we learned about the disease the grimmer the situation became," said Joey. Several months later, Dave lost his struggle with the disease. Broken and distraught, they disbanded.
It was in 1991, with much trepidation they began to slowly finish what they had started with their fate friend. Armed with an album a worth of songs, mostly co-written by Prichard, they enlisted touring guitarist Jeff Duncan, reunited with founding member Phil Sandoval, and released "Symbol Of Salvation", a fitting tribute to Prichard. The band was in prime form, "Reign Of Fire" and "Last Train Home" became instant MTV favorites. Extensive touring ensued that included stints with Suicidal Tendencies and Megadeth. 'We came off tour and began to write", remembers Bush, "that's when I got the call to join Anthrax". After much soul searching, John called the guys to tell them the news. Joey: "John and I had a heart to heart and on his way out the door John turned around and said, "we'll do this again, I know we'll make another record someday." The rest as they say is history.
The return of me almighty 'Saint began in late 1998, when, during some Anthrax downtime John and Joey went out drinking. The two wondered what it would be like to write a couple of songs again. Joey: "I started to get the itch again. I wanted to rock hard again, I played John some riffs (what would later become Revelation's "Control Issues") and in a couple of days with John's input the song was finished and we churned out a demo. It was a natural process". It was true. Armored Saint was back! Integrity, dedication and perseverance are what legends are made of.
Produced by bassist Joey Vera and mixed by Bill Metoyer (Slayer/WASP), Revelation, is a collection of tracks, full of raw energy and fire that seethes pure adrenaline.

DISCOGRAPHY
ARMORED SAINT EP 1983 Metal Blade

Track list: 1. Lesson Well Learned 2. False Alarm 3. On the Way

Lineup John Bush-Vocals, Dave Prichard-Guitars, Phil Sandoval-Guitars, Joey Vera-Bass, Gonzo-Drums

MARCH OF THE SAINT 1984 Chrysalis 4 stars

Track list: 1. March of the Saint 2. Can U Deliver 3. Mad House 4. Take a Turn 5. Seducer 6. Mutiny on the World 7. Glory Hunter 8. Stricken by Fate 9. Envy 10. False Alarm

Notes: Rereleased by Metal Blade. Lineup John Bush- Vocals, Dave Prichard- Guitars, Phil Sandoval- Guitars, Joey Vera- Bass, Gonzo- Drums

Review: Alltime Classic Metal Album

DELIRIOUS NOMAD 1985 Chrysalis

Track list: 1. Long Before I Die 2. Nervous Man 3. Over The Edge 4. The Laugh 5. Conqueror 6. For The Sake 7. Aftermath 8. In The Hole 9. You're Never Alone 10. Released

Notes: Rereleased by Metal Blade. Lineup John Bush- Vocals, Dave Prichard- Guitars, Phil Sandoval- Guitars, Joey Vera- Bass, Gonzo- Drums

RAISING FEAR 1987 Chrysalis

Track list: 1. Raising Fear 2. Saturday Night Special 3. Out On A Limb 4. Isolation 5. Chemical Euphoria 6. Crisis Of Life 7. Frozen Will 8. Legacy 9. Human Vulture 10. Book Of Blood 11. Terror 12. Underdogs

Notes: Rereleased by Metal Blade. Lineup John Bush- Vocals, Dave Prichard- Guitars, Joey Vera- Bass, Gonzo- Drums

SAINTS WILL CONQUER LIVE 1988 Chrysalis

Track list: 1. Raising Fear 2. Raising Fear 3. Nervous Man 4. Chemical Euphoria 5. Book Of Blood 6. Can U Deliver 7. Long Before I Die 8. Mad House 9. No Reason To Live (studio)

Notes: Rereleased by Metal Blade. Lineup John Bush- Vocals, Dave Prichard- Guitars, Joey Vera- Bass, Gonzo- Drums

SYMBOL OF SALVATION 1991 Metal Blade

Track list: 1. Reign of Fire 2. Dropping Like Flies 3. Last Train Home 4. Tribal Dance 5. The Truth Always Hurts 6. Half Drawn Bridge 7. Another Day 8. Symbol Of Salvation 9. Hanging Judge 10. Warzone 11. Burning Question 12. Tainted Past 13. Spineless

Lineup John Bush- Vocals, Jeff Duncan- Guitars, Phil Sandoval- Guitars, Joey Vera- Bass, Gonzo- Drums, Featuring Dave Prichard, first Guitar Solo on Tainted Past

REVELATION 2000 Metal Blade

Track list: 1. Pay Dirt 2. The Pillar 3. After Me, The Flood 4. Tension 5. Creepy Feelings 6. Damaged 7. Den Of Thieves 8. Control Issues 9. No Me Digas' 10. Deep Rooted Anger 11. What's Your Pleasure 12. Upon My Departure

Notes: Japanese version has bonus track "Shadows". Lineup John Bush- Vocals, Jeff Duncan- Guitars, Phil Sandoval- Guitars, Joey Vera- Bass, Gonzo- Drums

The albums seen here can be obtained from Dynasty Music

Dynasty Music is the Official Music Source for Masters of Metal



Email: Masters Of Metal