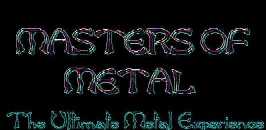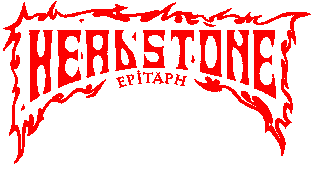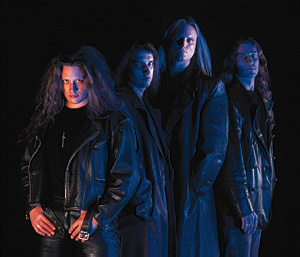 band members l to r: Jurgen Steinmetz-bass, Tim Benz-vocals, Frankie Reinert-drums, Martin Grimm-guitars

BIO
The History:
1987 the band is founded by Jürgen Steinmetz (bass) and Steffen Hußlik (guitar). Shortly after Frank Reinert (drums) joins the band and a mere two months later the band has their first live gig in front of 600 people
1989 Tim Benz replaces Andreas Sonnleitner (vocals). After having performed cover versions only, the band starts their own songwriting.
1991 Martin Grimm replaces guitarist Holger Blum.
1993 The demo 'Welcome ...' is being recorded and the debut album 'Without The Slightest Qualm', produced by Dennis Ward (Pink Cream '69), is released.
1997 Steffen Hußlik leaves the band.
1998 Headstone Epitaph signs with Noise Records and their second album 'Wings Of Eternity' is released.
1999 They are in the studio once again to record the third album 'Power Games', to be released on April 26.
The Background:
Headstone Epitaph's songwriter Tim Benz's lyrics deal mainly with subjects that are of importance to him and he transforms his thoughts into heavy metal. One of the subjects is 'power', the power that drives people, that they are obssessed by. The various aspects of power, starting with computer games all the way to actual warfare are part of the themes of 'Power Game' - the power games of life. In November '98 the band started to write new songs and in January '99 they headed into the studio, once again supported by Dennis Ward. This co-operation created an obviously more mature sound which also stresses the theme of 'Power Games', powerful riffs and drums and of course Tim Benz' great vocals. As a tribute to the atmosphere of the '80s they recorded a cover version of Judas Priest's 'Breaking The Law', which they have been performing live for the past 11 years. Headstone Epitaph don't fool around but come straight to the point, creating a very varied album.
1998 In the year 1987 in a small class room Steffen Hußlik (guit) and Jürgen Steinmetz(bs) founded the band HEADSTONE EPITAPH. Frank Reinert (dr) completed the trio. They soon met Andreas Sonnleitner who became the band's first singer and Cornel Erhardt who played the guitar. After just two months of rehearsal they did their first gig in front of 600 (!) people. 1989 Tim Benz joined the band as the new expressive vocalist, the following year Holger Blum replaced Cornel Erhardt as the new guitarist. In the beginning they were just doing cover-versions of such big names as Iron Maiden and Judas Priest. But after just a little while they came up with so many ideas of their own, that starting to write their own songs was just a matter of time. So more gigs and even open airs were to follow. But HEADSTONE EPITAPH also had to go through some personal changes. In 1991 Holger Blum left the band and got replaced by Martin Grimm and his guitar. More gigs were to play as well as a support slot for Axxis. In 1993 they decided to go for a demo tape called "Welcome...", which was really overdue.
The debut album "Without the slightest qualm" was a major step in the right direction to reach their targets. In Dennis Ward (bs, Pink Cream 69) the band found their producer, who helped to successfully transfer the band´s tightly polished live performance into an incredible studio album. The voice of Tim Benz being the foundation of their music. After giving it a lot of thought HEADSTONE EPITAPH decided to replace original member Steffen Hußlik, because of musical indifferences in 1997. One year later they sent out a demo tape with the two tracks "Searing Eyes" and" Rest your head on my shoulder". Success didn't keep them waiting too long and Noise Rec. turned out to be not just well acknowledged in the music business but also a very understanding partner as regards to their musical directions.
In April 1998 HEADSTONE EPITAPH hit the studio to record their new album "Wings of Eternity", and again Dennis Ward proved that he's not just a good bass player. The result is traditional metal, consequently with the necessary heavy riffs. Lightyears away from any trend, this band is pulling its own strings and proves again and again that there is a lot more still to come. Well, it's just the beginning....!

DISCOGRAPHY
WITHOUT THE SLIGHTEST QUALM 1993

Track list:

Notes: Band was originally called Headstone

WINGS OF ETERNITY 1998 (Noise)

Track list: 1. Searing Eyes 2. All For One 3. Wings Of Eternity (Fighting Sons) 4. Ready To Go 5. Whisper 6. Belovers of Fidelity 7. Hole In The Sky 8. Lies 9. Rest Your Hand 10. My Favorite Things 11. Mama 12. Equality 13. Burn For Me

POWER GAMES 1999 (Noise)

Track list: 1. RIDDLE 2. THE GAME 3. VICTORY 4. BREAKING THE LAW 5. KING OF KILL 6. FROM THE MOUNTAINS TO THE SEA 7. TIME 8. OVER THE RAINBOW 9. POWER OF LOVE 10. CHILDREN OF THE SUN 11. JUST FOR A MOMENT

Notes: Excellent album. Great cover version of Priest classic Breaking the Law.

The albums seen here can be obtained from Dynasty Music

Dynasty Music is the Official Music Source for Masters Of Metal