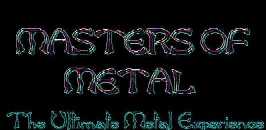 band members l to r: Segio Duccilli-keyboards, Fabio Calluori-guitars, Claudio Gallo-vocals, Giovanni Canu-bass, Carmelo Claps-guitar, Nicola Calluori-drums

BIO
Heimdall hails from Italy and is another fine example of Italian metal at its best.
Lord Of The Sky is the debut album for this fantastic power-epic metal band. Heimdall music is a mixture of Blind Guardian, Manowar, Gamma Ray and Rhapsody, with great, epic sounding backing vocals and amazing guitars. 11 songs where majesty, powerfulness and melody together create and incredible groove for one of the best epic metal album ever. If you like just one of the above mentioned band you can't miss "The Lord of the Sky".

DISCOGRAPHY
THE LORD OF THE SKY 1998

Track list: Prologue: 1. Galvor 2. Canticle of Heimdall 3. Lord of the sky 4. Bifrost 5. The island of ancient stone 6. Under the silent moon.. Dark age: 7. Fall of the bridge 8. Warriors of many ages past 9. The challenge 10. Sunset 11. Epilogue

THE TEMPLE OF THEIL 1999

Track list: 1. Prelude-The Messenger 2. Follow The Signs 3. Secrets of Time 4. The Oath 5. Falling In Tears 6. The Temple of Theil 7. Symphony of Twilight 8. Spirits of Skyward 9. Scream of Revenge 10. The Night Will Fall 11. The Song of Sidgar and Iselin 12. Finale

Notes: The Japanese version has two bonus tracks.

The albums seen here can be obtained from Dynasty Music

Dynasty Music is the Official Music Source for Masters Of Metal