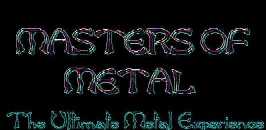 BIO
Ian Parry is not only known as the frontman of Elegy, but reached worldwide fame as a solo artist and as the founder of the Consortium Project. "Shadowman" features: Arjen Lucassen (Ayreon/Vengeance), Jan Bijlsma (Vengeance), Oscar Holleman (Vengeance), Ernst van Ee (Helloise), Rene Merkelbach (Gorefest). With some help of these top class musicians Ian Parry delivers a melodic progmetal pearl. 70 minutes playing time and great cover artwork make this record a must have for all fans of the genre. Having a career covering more than two decades, Ian Parry has gained the necessary valuable experience making him a dynamic and creative lyricist/songwriter. Ever since the release of his first solo album "Thru' The Looking Glass" in 1995 he wanted to release an album spanning the years of his creative works, and now, finally, with the release of "Shadowman" his dreams come true.
History
1985 Hammerhead is Ian's first band, also featuring David Rosenthal (Rainbow) and drummer Joe Franco (Twisted Sister and Widowmaker)
1986-1992 Ian works with various bands, i.e. Mono Pacific with Zak Starkey (son of Ringo Starr) and Airrance (formerly with Jason Bonham, son of Led Zeppelin drummer John Bonham). Ian's initial break comes with the hard rock band Vengeance.
1988-1989 Ian is member of Perfect Strangers featuring ex-VANDENBURG drummer Jos Zoomer, VENGEANCE bassist Barend Courbois and Hammerhead guitarist Wilko van Beek.
1992 VENGEANCE's album "The Last Teardrop" is released.
1993 Ian's first solo CD "Symphony Of Dreams" is being released and some songs are performed and recorded live in England for MTVs Headbangers' Ball. Ian also performs and co-writes songs on Misha Calvin's first CD "Evolution", together with Black Sabbath vocalist Tony Martin.
1994 "Artistic Licence" is Ian's second solo album release. It contains powerful performances from René Merkelbach (Gorefest) on keyboards and drummer Ernst van Ee (HELLOISE). VENGEANCE's last album "The Last Of All The Fallen Heroes" featuring Arjen Lucassen is being released the same year. 1995 Ian's third solo album "Thru' The Looking Glass" is undoubtedly his best solo achievement to date, it features guest performances of Vengeance/Ayreon guitarist Arjen Lucassen. He also has a guest appearance singing and co-writing with guitarist Arjen Lucassen on his very successful rock opera "Ayreon". During the same year Ian also co-writes songs with Misha Calvin for his second album "Evolution II".
1996 In February Ian joins the Dutch Symphonic Metal band Elegy, singing on their acoustic mini-CD "Primal Instinct".
1997 Elegy release the "State Of Mind" album. Shortly after ELEGY play additional shows in Japan, where Ian is nominated in the Burrn Magazine readers' poll for best singers in 1997.
1998 Elegy record their sixth album "Manifestation Of Fear" at Area 51 Studios, which is produced by Tommy Newton. The lyrical concept is written by Ian Parry. Ian records a live album in Budapest with Hungarian guitarist Tamas Szekeres.
1999 Ian finishes his new Symfo progressive metal album called Consortium Project, which features performances from guitarists Stephan Lill (Vandenplas), Tamas Szekeres, Thomas Youngblood (Kamelot), Patrick Rondat and ELEGY drummer Dirk Bruinenberg plus many more great musicians from the progressive metal scene. Ian is asked by Meteorcity Records based in New Mexico USA to record a track for their upcoming IRON MAIDEN Tribute CD, among others featuring Bruce Dickinson, John West (ROYAL HUNT), Sebastian Bach (SKID ROW), Chris Gaggery (SAVATAGE).
2000 Ian sings on AYREON's latest album "Flight Of The Migrator" which has just entered the German and Dutch Top 100 album charts. At the moment Ian is in the studio with Elegy to record their seventh album "Forbidden Fruit", which is supposed to be released this fall.
Discography
Hammerhead - 12" single "Don't Cry Your Life Away", 1984 Hammerhead - "Heart Made Of Steel" (unreleased), 1985
Vengeance - "The Last Teardrop", 1992
Ian Parry - "Symphony Of Dreams",1993
Misha Calvin - "Evolution", 1993
Valensia - "Valensia", 1993
Ian Parry - "Artistic Licence", 1994
Vengeance - "The Last Of The Fallen Heroes", 1994
Misha Calvin - "Evolution II", 1995
Ian Parry - "Thru' The Looking Glass", 1995 (featuring Ayreon/ex-Vengeance guitarist Arjen Lucassen
Ayreon - "A Rock Opera Transmission", 1995
Elegy - "Primal Instinct", 1996
Elegy - "State Of Mind", 1997
Perfect Strangers - "Outside lookin in", 1998 (featuring ex-Vandenberg drummer)
Tamas Szekeres - "Live in Budapest", 1998 (featuring Elegy vocalist Ian Parry)
Elegy - "Manifestation of Fear", 1998
Ian Parry's Consortium Project, 1999

DISCOGRAPHY
SYMPHONY OF DREAMS 1993

Track list: 1) Love don't come easy 2) Only Lies 3) Lonely without your love 4) Turn it up 5) Marching on 6) Listen to their voices 7) Green onions in the kitchen 8) Keeps us together 9) Watch the wind Blow 10) Midnight Hour

ARTISTIC LICENCE 1994

Track list: 1. Bad Business 2. Why Why 3. Still the One 4. Say I Believe 5. Turn Back The Time 6. This Love of Mine 7. Counting the Score 8. Dreamin' it All 9. Lady of the Night 10. Get the Message Through 11. Crazy People

THRU' THE LOOKING GLASS 1995

Track list: 1) Run 2) Wildhearts 3) Through those Eyes 4) Shadowman 5) Can't go on 6) The Palace of Hell (I dare) 7) Beggars can't be choosers 8) Back in the old days 9) No more war 10) Tell me why 11) Thru' the looking glass

SHADOWMAN 2000

Track list: 1. THROUGH THOSE EYES 2. SHADOWMAN 3. THE PALACE OF HELL (I DARE) 4. WILDHEARTS 5. TURN BACK THE TIDE 6. RUN 7. NO MORE WAR 8. CAN'T GO ON 9. BEGGARS CAN'T BE CHOOSERS 10. WATCH THE WIND BLOW 11. BAD BUSINESS 12. DREAMIN' IT ALL 13. STILL THE ONE 14. TELL ME WHY 15. ONLY LIES

line-up Ian Parry - Lead & Harmony vocals, Arjen Anthony Lucassen - Electric & acoustic Guitars, Don van Splunteren - Guitar, Erwin Steylen - Guitar, Oscar Holleman - Guitar, Rene Merkelbach - Keyboards & Piano, Jan Bijslma - Bass, Marcel van der Zwam - Bass, Ernst van Ee - Drums, Additional backing vocals: Gwenn Wientjes, Esther Krijnen
IAN PARRY CONSORTIUM PROJECT 1999

Track list: 1. House of Cards 2. Banquet for Thieves 3. Evilworld 4. Garden of Eden 5. The Entity (instrumental) 6. Change Breeds Contempt 7. A Miracle is all we Need 8. The Snake 9. Criminals & Rings 10. Chain of Fear 11. Pandora's Box 12. Humanitarian 13. Change Breeds Contempt (demo version with Glen Barry on bass)

Guest musicians Patrick Rondat - guitars, Thom Youngblood - guitars, Stephan Lill - guitars, Tamas Szekeres - guitars, Dirk Bruinenberg - drums, Martin Helmantel - bass, Arjen Lucassen - keyboards, Tommy Newton - guitars, Barend Courbois - bass, Jan Vayne - keyboards
THE LAST TEARDROP 1992

Track list: Not available

EVOLUTION 1993

Track list: 1) Strangers 2) Ready or not 3) Put a little faith in me 4) Valhalla 5) Reaper 6) Don't let it go 7) Can't hold me 8) Evolution 9) Here I am 10) Heaven only knows

VALENSIA 1993

Track list:

THE LAST OF THE FALLEN HEROES 1994

Track list: 1) Wings of an Arrow 2) Blood Money 3) Outta Control 4) Trouble in Town 5) As the last teardrop falls 6) The last of the fallen Heroes 7) Hold on tight 8) Keepin' up with the Joneses 9) Funky Little Lady 10) Football Crazy 11) Edge of Time 12) Outta my Head

EVOLUTION II 1995

Track list: Not available

OUTSIDE LOOKIN IN 1998

Track list: 1) Dancing through the night 2) Outside lookin' in 3) All night long (give me all your love) 4) Information Overload 5) Only Lies 6) The time has come 7) Still the one 8) Hollywood Star 9) Live for the Future 10) Trapped by a Feeling 11) Dreamin' it all 12) Slow Down 13) Broken Heart 14) When I'm away from you 15) The Big Time (Instrumental) 16) Spend the Night 17) Once Bitten, twice shy (bonus track) 18) Lay down your arms (bonus track)

TAMAS LIVE IN BUDAPEST 1998

Track list: 1) Welcome Stranger 2) Blue Syndicate 3) Fire 4) Final Frontier 5) Could we try 6) Guitarmania 7) Take me back 8) Memory Avenue 9) Midnight Train 10) Summer Town 11) Soldier of Time 12) Ice Princess 13) Hero with a 1,000 eyes 14) Can't let you go

WINGS OF AN ARROW 2000

Track list: Not available

Notes: Compilation album of previously released material

The albums seen here can be obtained from Dynasty Music

Dynasty Music is the Official Music Source for Masters Of Metal