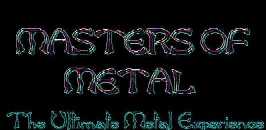 band members Gunnar Olsen - drums, Jakob Lykkebo - bass, Kristian Martinsen - guitar, Martin Steene - vocals/guitar, Kristian Iversen - guitar
BIO
Denmark definitely isn't one of Heavy Metal's internationally leading countries, but the bands that do come from there are first class and have gained worldwide recognition. Just think of DAD, Pretty Maids or Mercyful Fate.
Now there's a brand new melodic Power Metal band out of Denmark called Iron Fire, that set out to follow in the footsteps of the above mentioned bands.
The title of their debut album 'Thunderstorm' says it all, the songs are powerful, dynamic and passionate. The roots of Iron Fire go back to 1995. Back then they called themselves Misery and Decades Of Darkness and played hardrock, doom and death/black metal. Finally the band focused on vocalist Martin Steene's favourites, the German metal band Helloween. The band changed its name to Iron Fire and started playing melodic speed metal.
In the summer of 1998 the band decided to record a demo CD and start looking for a label. Their 3 song demo received positive reactions from various labels and Modern Music was interested in this talented five-some as well.
The current line-up is 19 year old vocalist Martin Steene, 17 year old guitarist Kristian H. Martinsen and 19 year old rythmn guitarist Kristian Iversen, who is one of the founders of the band and who, after having been absent for a little while, is back for good. To complete the line-up you also have 19 year old bass player Jakob Lykkebo and 20 year old drummer Gunnar Olsen.
The debut album was recorded in Tommy Hansen's 'Jailhouse Studios', who also worked with Pretty Maids and recorded some of the best Helloween albums to date such as 'Keeper Of The Seven Keys parts I and II', 'Master Of The Rings' and 'Time Of The Oath'.
'Thunderstorm' is a mixture of fast and hard songs, powerful midtempo songs and metal hymns. The lyrics are about dragons and knights and as a hommage to one of Martin Steene's favourite German metal acts they also recorded a cover version of the Running Wild classic 'Under Jolly Roger'. The album will be released at the end of February 2000 and hopefully will be the beginning of a very promising career of this five-some.

DISCOGRAPHY
THUNDERSTORM 2000 Noise

Track list: 1. The Final Crusade 2. When Heroes Fall 3. Rise Of The Rainbow 4. Metal Victory 5. Thunderstorm 6. Behind the Mirror 7. Warriors of Steel 8. Battle of Freedom 9. Glory to the King 10. Angel of Light 11. Until The End 12. Riding Free

Notes:

The albums seen here can be obtained from Dynasty Music

Dynasty Music is the Official Music Source for Masters Of Metal