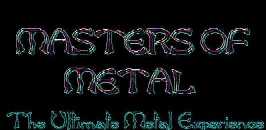 band members: left to right are Chris Broderick, John Tetley, Mark Briody. Harry Conklin and Rikard Stjernquist.

BIO
It's never come easy for JAG PANZER, and any other band that have faced the adversity and setbacks that these Midwest metal legends have would have folded many years ago. But good work ethic and a love for playing metal music have enabled this outfit to endure everything that can be thrown at them, and triumphantly they are managing to create some of the best traditional metal currently around.
Combining stunning, technical musicianship with catchy and intelligent songwriting, JAG PANZER's brand of power metal rises above their peers' adequacy simply because they realized long ago the importance of delivering material that satisfies them and their fans first, and not what the industry or mainstream public may demand. The band's latest and fifth full-length album, Thane To The Throne, shows the band taking two steps forward and delivering their most immediate and confident release thus far. Jag Panzer's long history dates back to 1981 when guitarist Mark Briody, bassist John Tetley, drummer Rick Hilyard and vocalist Harry Conklin formed under the moniker Tyrants, later to be changed to JAG PANZER (taken from the German World War II tank Jagdpanzer) in 1983. An untitled EP was recorded for Azra Records (fans now refer to this rare gem as the Tyrants EP) and the band soon after added guitar wizard Joey Tafolla to complete an amazing five-piece line-up.
Their milestone 1984 debut LP Ample Destruction garnered huge underground attention and spread the band's name throughout the budding metal world. Although Ample's... impact and influence are still felt today, the band crumbled apart a year after the album's release without ever having a chance to capitalize on its success. By 1987 (after the departure of Hilyard in 1985, and soon after Tafolla and Conklin), Briody, Tetley and new drummer Rikard Stjernquist began a period of near hibernation, only to be awakened in 1993 with a line-up featuring old friend Chris Kostka on guitar and vocalist Daniel Conca (ex-Gothic Slam). After demo-ing for almost a year the band released Dissident Alliance in 1994, and was fortunate enough to tour Germany with Overkill, as well as playing selected headlining shows in the States.
Although the record re-acquainted everyone with the band name, early Jag Panzer fans were not satisfied with the current style and line-up. 1996 brought the infamous Ample Destruction line-up back together for JAG PANZER, re-capturing the prominence they had been recognized for in the early '80s and enabling them to start writing their most focused and stunning material ever. Since then the band have found thousands of new fans, especially on European shores, to add to the massive support that they have garnered for themselves over the past 15 years. After signing a worldwide deal with Century Media Records, the band released The Fourth Judgement in 1997 and The Age Of Mastery in '98 (both highly-praised by press and fans everywhere), and once again JAG PANZER became one of the most talked-about and worshipped traditional metal bands around. Tours of Europe with Hammerfall and Gamma Ray, not to mention a run of dates through the States supporting Iced Earth, brought the band's material to their rabid and expanding fan base, and their excitement hasn't lessened yet.
JAG PANZER's new album, Thane To The Throne, takes the Colorado metal machine's sound into further dimensions, this time via a concept story line based on the Shakespeare classic Macbeth. Vocalist Harry "The Tyrant" Conklin has never sounded stronger, while young virtuoso Chris Broderick (who took the place of Tafolla before the recording of Age Of Mastery) and veteran axeman Mark Briody continue to dazzle fans with their steady riffing and guitar wizardry. While standout tracks "King At A Price", "Treachery's Stain", "Hell To Pay" and "Fate's Triumph" highlight the album, Thane To The Throne (produced brilliantly again by Jim Morris at Morrisound), as like other successful concept albums, is most rewarding when taken in from start to finish.
JAG PANZER have done a magnificent job in telling the tale of Macbeth through their electrifying music, and the segues between songs along with the use of more unorthodox instruments (including viola and minstrel-like singing) add to the imagination of the story line. Filled to the brim with classic metal brilliance and musicianship that is top-notch, Thane To The Throne is the album that will solidify JAG PANZER as a power metal forerunner, not just another '80s heyday band giving it another go-around.
NEWS: Jag Panzer's latest, Thane To The Throne, is doing substantially well, as is obvious by the heaps of praise being awarded the conceptual power metal epic based upon Shakespeare's Macbeth. Having recently performed a stellar show at the Ultrasound Convention in Las Vegas the group are primed to blow away crowds at this year's Bang Your Head Festival in Germany, as well as standout US festivals like Milwaukee Metalfest on July 29th and Powermad in Baltimore on August 19th.

DISCOGRAPHY
JAG PANZER EP 1983 Azra Records

Track list: 1. Battlezones 2. Death Row 3. Metal Melts the Ice 4. Iron Shadows

Notes: Not titled but was dubbed the The Tyrant EP

Lineup: Harry 'The Tyrant' Conklin - Vocals, Mark Briody - Guitar/ Keyboards/ Backing Vocals, John Tetley - Bass, Rick Hilyard - Drums

DEATH ROW (single) 1983 Azra Records

Track list: Death Row

Notes: Single from the "Tyrant" EP

AMPLE DESTRUCTION 1984 Azra Records

Track list: 1. Licensed to Kill 2. Warfare 3. Symphony of Terror 4. Harder then Steel 5. Generally Hostile 6. The Watching 7. Reign of the Tyrants 8. Cardiac Arrest 9. The Crucifix

Notes: The only officially released version of this album until the 1990 Metalcore release.

Lineup: Harry 'The Tyrant' Conklin - Vocals, Mark Briody - Guitar/ Keyboards/ Backing Vocals, Joey Tafolla - Guitar, John Tetley - Bass, Rick Hilyard - Drums

AMPLE DESTRUCTION 1985

Track list: 1. Licensed to Kill 2. Warfare 3. Symphony of Terror 4. Harder then Steel 5. Generally Hostile 6. The Watching 7. Reign of the Tyrants 8. Cardiac Arrest 9. The Crucifix

Notes: 1985 bootleg release by Banzai Records

CHAIN OF COMMAND 1988

Side 1: 1. Eyes of the Night 2. Fallen Angel 3. Viper 4. Take this Pain 5. Lustful and Free Side 2: 1. In A Gadda Da Vida 2. Shadow Thief 3. Lying Deceiver 4. Out of Sight, Out of Mind Side 3: 1. Prelude 2. Chain of Command 3. Shadow Thief 4. She Waits 5. Ride Through the Storm Side 4: 1. In A Gadda Da Vida 2. Never Surrender 3. Burning Heart 4. Sworn to Silence 5. Dream Theme 6. Gavotte in D

Notes: Released in 1988 by Hellhammer Maniac Records Available as a double picture disc set Bootleg album

AMPLE DESTRUCTION 1989

Track list: 1. Licensed to Kill 2. Warfare 3. Symphony of Terror 4. Harder then Steel 5. Generally Hostile 6. The Watching 7. Reign of the Tyrants 8. Cardiac Arrest 9. The Crucifix

Notes: Released in 1989 by Barricade Records, Bootleg album. This one has the coolest cover

AMPLE DESTRUCTION 1990

Track list: 1. Licensed to Kill 2. Warfare 3. Symphony of Terror 4. Harder then Steel 5. Generally Hostile 6. The Watching 7. Reign of the Tyrants 8. Cardiac Arrest 9. The Crucifix 10. Black Sunday (bonus track) 11. Eyes of the Night (bonus track) 12. Fallen Angel (bonus track)

Notes: Released in 1990 by Metalcore Records. This is an official release.

TYRANTS EP 1991

Track list: 1. Battlezones 2. Death Row 3. Metal Melts the Ice 4. Iron Shadows 5. Tower of Darkness (bonus track)

Notes: Released in 1991 by Mausoleum Records, this is an official release.

CHAIN OF COMMAND 1991

Track list: Jag Panzer: Prelude, Chain of Command, Shadow Thief, She Waits, Ride Through the Storm, In A Gadda Da Vida, Never Surrender, Burning Heart, Sworn to Silence, Dream Theme, Gavotte in D

Majesty: Another Won, Your Majesty, A Vision, Two Far, March of the Tyrant

Notes: Released in 1991 by Reborn Classics, bootleg album. Features Jag Panzer and another band "Majesty".

AMPLE DESTRUCTION 1991 METAL BLADE

Track list: 1. Licensed to Kill 2. Warfare 3. Symphony of Terror 4. Harder then Steel 5. Generally Hostile 6. The Watching 7. Reign of the Tyrants 8. Cardiac Arrest 9. The Crucifix 10. Black Sunday (bonus track) 11. Eyes of the Night (bonus track) 12. Lying Deceiver (bonus track)

Notes: Released in 1991 by Metal Blade Records, this is an officially released album.

SHADOW THIEF 1992

Jag Panzer: In A Gadda Da Vida, Shadow Thief, Lying Deceiver, Out of Sight- Out of Mind, Fallen Angel, Viper, Take this Pain, Lustful and Free

Steel Prophet: Death, Sleep of Despair, Inner Ascendance, Life, Nihilism's Spell, Technocricide

Notes: Released in 1992 by Reborn Classics, bootleg album. Features Jag Panzer and another band "Steel Prophet".

DISSIDENT ALLIANCE 1994

Track list: 1. Jeffrey Behind the Gate 2. The Clown 3. Forsaken Child 4. Edge of Blindness 5. Eve of Penance 6. Last Dying 7. Breath 8. Psycho Next Door 9. Spirit Suicide 10. GMV-407 11. The Church 12. Whisper God

Notes: Released in 1994 by Rising Sun Records. Official Release. Only JP album to not have Harry Conklin on vocals.

Lineup: Daniel Conca - Vocals, Mark Briody - Guitar/Keyboards/ Backing Vocals, Chris Kostka - Guitar, John Tetley - Bass, Rikard Stjernquist - Drums

JEFFREY BEHIND THE GATE 1994 (SINGLE)

Track list: 1. Jeffrey Behind the Gate 2. Spirit Suicide 3. Jeffrey Behind the Gate (remix)

Notes: Single from the Dissident Alliance album.

THE FOURTH JUDGEMENT 1997 Century Media

Track list: 1. Black 2. Call of the Wild 3. Despair 4. Future Shock 5. Recompense 6. Ready to Strike 7. Tyranny 8. Shadow Thief 9. Sonet of Sorrow 10. Judgement Day

Notes: The return of Harry Conklin. Features guest musicians

Lineup Harry 'The Tyrant' Conklin - Vocals, Mark Briody - Guitar/Keyboards/Backing Vocals, Joey Tafolla - Guitar, John Tetley - Bass, Rikard Stjernquist - Drums, Additional Musicians
Todd Ehle - Violin, Karen Kenedy - Backing Vocals

THE AGE OF MASTERY 1998 Century Media

Track list: 1. Iron Eagle 2. Lustful And Free 3. Twilight Years 4. Sworn To Silence 5. False Messiah 6. The Age Of Mastery 7. Viper 8. Displacement 9. Chain Of Command 10. Take this Pain away 11. Burning Heart 12. The Moors

Notes: US version

Lineup: Harry 'The Tyrant' Conklin - Vocals, Mark Briody - Guitar/ Keyboards, Chris Broderick - Guitar, John Tetley - Bass, Rikard Stjernquist - Drums, Additional Musicians: Todd Ehle - Violin, Karen Kenedy - Backing Vocals, Derek 'Deke' Blake - Backing Vocals, John Lutzow - Backing Vocals, Jim Morris - Backing Vocals, Tammy Briody - Backing Vocals

THE AGE OF MASTERY 1998 Century Media

Track list: same as above

Notes: Foreign release. Has slightly different cover

DO YOU SEE WHAT I SEE 1999 Century Media

Track list: Do You See What I See

Notes: Harry and Mark recorded this traditional Christmas song by themselves for fun. Century Media liked the song and placed it on their website as a special bonus holiday song.

Lineup: Harry Conlin-vocals, Mark Briody-guitars/keyboards

THANE TO THE THRONE 2000 Century Media

Track list: 1. Thane of Cawdor 2. King At A Price 3. Bloody Crime 4. The Premonitions 5. Treachery's Stain 6. Spectres of the Past 7. Banquo's Final Rest 8. Three Voices of Fate 9. Hell To Pay 10. The Prophecies (Fugue in Dm) 11. Insanity's Mind 12. Requiem for Lady MacBeth 13. Face of Fear 14. Fall of Dunsinane 15. Fate's Triumph 16. The Downward Fall 17. Tragedy of MacBeth

Notes: Concept album based on the story of Macbeth.

Lineup: Harry 'The Tyrant' Conklin - Vocals, Chris Broderick - Guitar/ Keyboards, Mark Briody - Guitar/ Keyboards, John Tetley - Bass/ Backing Vocals, Rikard Stjernquist - Drums. Additional Musicians: Todd Ehle - Violin, Kimberly Kendall - Choir, M. Wayne Jones - Choir, Jim Morris - Choir, The Moscow String Quartet - Strings on 'The Prophecies (Fugue in Dm)', Mike Rice - Marching Snares, Steve Yates - Marching Snares, Jeff Gust - Marching Snares

The albums seen here can be obtained from Dynasty Music

Dynasty Music is the Official Music Source for Masters Of Metal