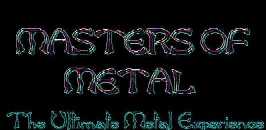 band members

BIO
Magnitude 9 are a new progressive power metal band from America. Formed in Ohio in April of 1997 by guitarist Rob Johnson. With the help of David Chastain of Leviathan Records, Rob was introduced to enigmatic vocalist Corey Brown of the band "Psycho Drama". Rob and Corey quickly realised they both had the same musical vision and began to write songs together. They contacted fellow friends/musicians, keyboardist Joseph Glean, drummer John Homan and bassist Kevin Chown managing to complete a stellar line up which would result in an excellent collaboration of talents.
Over the course of several months, ideas were written and laid down in the studio for a planned album. In February 1998 all the tracks were finished and the album was mixed. Now the band is ready for the world to hear what they have created. "Fans have been waiting patiently for this CD and now it's finally finished" says guitarist Rob Johnson. "We are really proud of this album. It is hard to keep up with all of the e-mails and letters we have been receiving from fans all over the world, people seem to be as excited about this CD as we all are" says vocalist Corey Brown.
Magnitude 9's debut album, "Chaos To Control" is a unique blend of hooks and melodies combined with interesting musical passages that should go down really well with fans of Queensryche, Symphony X, Threshold and Fates Warning. "Chaos To Control" is already receiving rave reviews across Japan and Europe and looks set to put this outstanding new band on the map of progressive metal.
"Chaos To Control" was released in Europe in September 1998.


DISCOGRAPHY
CHAOS TO CONTROL 1998

Track list: 1. Another World 2. Don't Say 3. After Tomorrow 4. Y2K 5. Voices 6. Into The Sun 7. Keeper Of Your Soul 8. Secrets Within 9. Writings 10. End Of Time

Notes: European and Japanese version

CHAOS TO CONTROL 1998

Track list: 1. Another World 2. Don't Say 3. After Tomorrow 4. Y2K 5. Voices 6. Into The Sun 7. Keeper Of Your Soul 8. Secrets Within 9. Writings 10. End Of Time 11. Man On The Silver Mountain (USA version only)

Notes: US version with bonus track. Cover of Rainbow classic Man On The Silver Mountain

The albums seen here can be obtained from Dynasty Music

Dynasty Music is the Official Music Source for Masters Of Metal