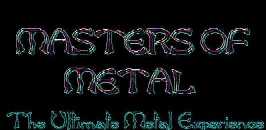 band members: Joacim Cans - Vocals, Christian - Guitar, Mika - Drums

BIO
It was late 1994 when guitarist Christian and drummer Mika first began playing and writing songs together, trying to combine their musical talents and backgrounds. They were overwhelmed with the result and enlisted singer Joacim Cans to give the 70's/90's rock music and 80's touch with his metal melody lines and clear, high pitched vocals.
Mrs. Hippie draws from musical influences spanning over three decades, giving them a very unique sound. The monotonous, grinding guitars coupled with vivid, imaginative drumwork and a melodic, wandering voice puts this band in a category of its own, reminding you of a lot of things yet never sounding similar to anything. These early times were immortalized with a studio session in early 1996, capturing the sensational hybrid metal in the raw.
The band's first live outing came at then classic rock club FM Station in Göteborg, enlisting the help of In Flames bass beater Peter Iwers. That was quickly followed by a very unusual and personal version of the KISS classic "I Want You" on a tribute album to said rock'n'roll giants. This would prove to be the band's final project together?for the time being, at least, as they split up to pursue other musical highways. Joacim joined heavy metal fanatics HammerFall, Christian formed Awesome Machine and Mika took part in rising Hardcore Superstar and Brassmonkeys to the frontlines.
"Lotus" is the result of a couple of days of remixing and overdubbing, to give the production a comtemporary feel worthy of releasing on CD. Hybrid metal at its finest, a relentless and unstoppable force that will grind you down if you get in its way. Bow to the Master!

DISCOGRAPHY
LOTUS 2000 Metal Blade Records

Track list: 1. Lotus 2. Someone Else There 3. Lies 4. Going Home 5. Voices In My Mind 6. Until My Dying Day 7. Mother Nature Bleeds 8. By The Rules 9. Lost My Way 10. I Want You (Bonus Track)

Notes: Originally released in 1996, features Joacim Cans of Hammerfall on vocals. Mrs. Hippie did a cover of Kiss Classic I Want You.

The albums seen here can be obtained from Dynasty Music

Dynasty Music is the Official Music Source for Masters Of Metal



Email: Masters Of Metal