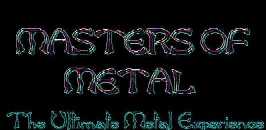 band members

BIO
Formed in their hometown of Chicago at the end of 80'S, Radakka is a collaboration of four musicians that came from several of the city's most successful bands. The group united to work towards achieving a level of musical integrity without compromise.
Motivated to write and perform a style of music that is emotionally directed, regardless of its commercial accessibility or lack thereof. Creating an outstanding, hard-hitting classic metal sound that highlights vocal harmonies and strong melodies. The quartet has steadfastly refused to succumb to the current musical trends, preferring to adhere to their own philosophy and let the high quality of their songwriting speak for itself. Over the course of their existence, Radakka has become a main stay at concert halls and local clubs. Delivering their intense presentation with power and certitude to venues packed with their loyal fan base in Chicago and the entire Midwest. The band honed and perfected their compositional and performance skills with live concerts and through several widely successful demo tapes that received international exposure. Radakka's dedication to their music and perseverance finally paid off in 1995, when Century Media quickly signed the band to a worldwide contract. When it came time for the band to pick the tunes for their debut album Malice and Tranquility, Radakka had to choose from an impressive repertoire of over 35 songs. With the final selections showcasing the band's diversity as well as their approach to the traditional hard rock/metal sound. Released only in Europe the import orders and sales in the States began to appear at an alarming rate.
The album was one of several releases that spearheaded the resurgence of the genre in North America. European and U.S. fans hailed the record as a debut masterpiece. After more than 3 years of writing and performing since their acclaimed debut, Radakka felt it was time to step up and show the world just how powerful and enduring their music has become. It is with the same kind of profoundness and solid songwriting that was demonstrated on their debut, Radakka now offers their second endeavor, Requiem for the Innocent, released worldwide in September 1998. The group spent tireless hours that encompassed an entire summer in the studio recording and mastering their current project. A commitment by the band to their motivation for perfection, both personally and professionally. Once again filled with absolute talent and possessing even more developed structures and songs. Both musicians and fans alike can look to this album with enjoyment and respect for its concept and achievements. Radakka displays a type of musical depth and undeniable eminence that far surpasses that of most hard rock/metal giants. With that in mind, it isn't hard to understand why the band took the time to follow up their acclaimed debut.
Guitarist Michael Posh states confidently, "Our goal is to make music on a level that all serious bands strive for, only few can achieve and even fewer can control." Radakka has recently gone through a line up change having to replace original drummer Dean Maltese with new member Gabriel Anthony. The search was an intense event and tested the bands bond and affinity for their music. At the band's most recent live shows the overwhelming response from the fans was a consensus that expressed a sincere acceptance. Vocalist Jon Dobbs boldly admits to the band's mission statement, "Radakka, be part of it or be a victim of it."

DISCOGRAPHY
MALICE AND TRANQUILITY 1995

Track list: 1. Masquerade 2. Thinking of You 3. Sacrifice 4. I'll Walk Alone 5. Saint's Addiction 6. Solitude 7. Rainy Days 8. End Of The Line 9. Out of The Dark 10. Beautiful Thing 11. In These Chains

REQUIEM FOR THE INNOCENT 1998

Track list: 1. Phantom #9 2. Still A Stranger 3. Requiem For The Innocent (We Die Alone) 4. Azriel (My Dying Love) 5. Whore 6. Velvet 7. Sit Up And Sweat 8. Cult Of One 9. Black Rose & Red Wine: Trilogy I) Gothic Rain 10. II) Queen Of Autumn 11. III) Sorrow's Thorn

The albums seen here can be obtained from Dynasty Music

Dynasty Music is the Official Music Source for Masters Of Metal