Based in Italy, Elvenking plays a brand of metal that combines speed, brilliant melodies,
medieval sounds à la Skyclad and progressive touches.
Guitarist Aydan took a few minutes to tell me about the band's music & history...
INTERVIEW BY MARINA
First, please, could you go into the history of Elvenking up to this point, for those who still don't know you?

The band is formed in October 1997, initiative mine and Jarpen's, old friends who share the same passion for metal music and folkloristic traditions. We had a lot of line-up problems at the beginning, looking for the right people, so we had a lot of time wasted searching for them! Then in March 1998 the singer Damnagoras joined the band and in the following September it was the time for drummer Zender. The bass player was found after the release of our first and only demo-cd "To Oak Woods Bestowed" and his name is Gorlan. The actual line up is really solid, a lot of things are in common and we are close friends, we have that feeling that I think a band must have! After the release of "To Oak Woods Bestowed" we have sent it to a few labels, and after 3 days we received the first phone-calls. We have chosen AFM Records (label of Edguy, Avantasia, Steel Attack...) simply because they seemed really interested in our music! We have chosen to be well followed by a not-so-big label, instead of being the last band of more famous record companies.


Who came up with the name Elvenking, why did you choose this name and what does it stand for?


Jarpen came out with this name a lot of time ago, when only him and myself were in the band. It comes from J.R.R. Tolkien's "Lord Of The Rings" (the most metal book in the world :) It reflects well the spirit of the band and it lets me think about old fairytales...

Your sound is hard to define 'cause it combines different elements. How would you describe your music and, in your opinion, which are your differences from other bands coming from Italy?

We use to describe our music as "folk-aggressive metal" 'cause we take a lot from folk music but we combine it with sharp and hard riffing and some influences also from death or black metal. I think we haven't things in common with the typical Italian style, if you mean this. In Italy there are some really good bands but we part away from the scene, simply because we don't play that kind of power metal.

What are your basic influences, which bands do you admire?

Well, our influences come from all the metal scene and obviously from a lot of folk music and dances from all over the world. For what about the metal part, from power to thrash or death metal, we listen all! To name you a few bands Skyclad, Blind Guardian, In Flames, Soilwork, Helloween, Mercyful Fate/King Diamond, Annihilator, Cradle Of Filth, Dark Tranquillity...

Your debut album "Heathenreel" is simply great. Could you go through the basics of the story? What's the meaning behind this title?


"Heathenreel" is a play on words with "heathenry" and "reel", that is a Scottish kind of dance. I think that the title reflect very well the whole concept of the album, that unite folkish jigs and dances with lyrics based on the communion between Man and Nature.

Can you tell us more about the writing process (who writes the songs, lyrics, melodies...) How long did it take for you to complete the album?


Well, usually me, Jarpen and Damnagoras write music and lyrics. Then all the band together valuates each single song and decides what is good and what instead has to be changed. During the songwriting process of the album we have added, deleted, cut and destroyed so much stuff! To write "Heathenreel" we used a whole year. We think that the same time could be sufficient for the next album.

Why did you decide to produce the album instead of putting that mission on the hands of a producer? Are you happy with the final result?


Well, to tell you the truth, in the CD there is the writing "Produced by Elvenking" simply because there isn't a real producer of the album, somebody who followed the work from the beginning to the end. The sound of "Heathenreel" is made by the cooperation of Luigi Stefanini and Fredrik Nordstrom following our ideas. I think that, for the budget used and for the time we have passed in the studios (3 weeks), the result is good, in our opinion. Obviously for the next album we'll try to have even a better production.

You dropped the typical warriors & dragons themes out of your lyrics. Can you tell some details about them?


Generally, the lyrics of the album are about the pagan adoration of nature, seen as a superior entity to honour and respect. These topics are often narrated under the form of some kind of stories and tales. There are episodes that keep the distance from this concept, for example "Conjuring Of The 14th" that is a sort of horror tale.

You've done a Skyclad cover on "Penny Dreadful" (bonus track for Japan and South America) Who's the biggest Skyclad fan in the band? How do you feel about their stuff?


When I bought "A Burnt Offering For The Bone Idol" back in 1992, I found out that this band was really out of the crowd and I began to love them!!! Then I let my bandmates listen to Skyclad and now all of us love the band and for sure it is one of our major influences! "Penny Dreadful" is our personal tribute to this incredible band. I think Skyclad are the most underrate band of the whole metal scene!!!

How important do you think it is for a new fan of metal to explore the older bands, and why?


Well, I think is really important, simply for the facts that most of nowadays stuff takes its inspirations from these models! To be sincere I'm not a great fan of some older bands and I prefer some actual kind of metal, but doubtless some historical bands are simply too much important for the evolution of the metal scene!

What do you think of other bands that mix Heavy Metal with folk music, like Falconer, for instance?


Oh, I like Falconer!!! I think their album simply kills!!! There are other bands (excluding Skyclad) that mix folk and metal, just as Otyg or Finntroll (to name a few) that I simply love! But I think that all this bands are really different from our music.

You have a simple but beautiful cover artwork. How did get Travis Smith and J.P. Fournier to do the work of the cover and logo? Did you give them a free hand?


We asked AFM Travis Smith for the cover artwork and they simply agreed with our choice! On the other hand the label suggested us the name of JP Fournier for the logo design. I think both did an incredible work! Fournier's logo fits perfectly with the general concept of the band. With Travis instead we worked a lot, 'cause we asked him something different from his style. We told him we would like something more simple that his standards, and, as you know, it's not easy making Travis doing simple works, he he he. But, in the end, the result is amazing, in my opinion!

I know you also play live... so what can people expect from an Elvenking concert? How would you describe your live performances?


Well, I think an Elvenking performance is really energetic and take the listener back in time. Playing live we use our folkish clothes and face paintings just to create the right atmosphere in which our music evolves during the show.

What's your opinion about Internet? Is it helping to spread the band's name?


Oh, for sure!!! We're all internet maniacs and the net helped us so much in spreading our name after the release of our demo "To Oak Woods Bestowed"! From our site we had the opportunity of selling more than 1000 cd's, that is a good number for a demo-cd!

What direction do you foresee for your music in the future? Do you plan any development in your sound?


We are actually really involved in the songwriting for the next album. We have at the moment something like 6 or 7 songs nearly finished, but we don't know if they are going to appear in our next album. By the way these songs are straighter and more aggressive, compared with "Heathenreel" stuff. Our intention is to make a more straight album this time, that goes directly to the point, without forgetting our own style!

Last question. What will be your next activities? Any plans for live shows to support the album?


Obviously we'd like to tour or at least having some live shows, but for a debut band as we are, we have to wait the public reactions and the sales first!!!! That's life...

Well, Aydan, thank you very much for this interview and I wish you all the best for your career. Feel free to give a last message...


Well, I would like to say that if someone is bored about all the power metal bands that play so similar one to the other, and is searching for something different, well, give a chance to "Heathenreel". Thank you Marina for your great website and to all the Spanish metalheads! Aydan - ELVENKING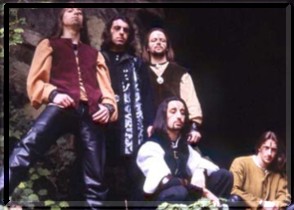 ---