| | | |
| --- | --- | --- |
| METAL MANIA 2003 | July 11, 12 & 13, 2003 | Villarrobledo |
What a great weekend this has been!!! The much-expected first edition of the Metal Mania festival, the biggest Metal Fest ever held in Spain, took place at the Auditorio Municipal in Villarrobledo, a town of 23,000 inhabitants in the province of Albacete, located 190 km southeast of Madrid. The event drew more than 20,000 metalheads, causing the locals to wonder if they were being invaded by hordes of long-haired people wearing black :) The experience was fantastic and here's my brief review of each band who graced our eyes and ears...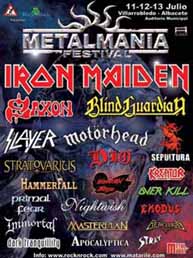 FRIDAY - JULY 11TH

At 8:00 AM we jumped on the bus which would take us to the town where we would start our 3-day of Metal hell. After the 7-hour trip, we finally reached Villarrobledo, where I stayed in a luxurious looking hotel located in the main square. This hotel has a medieval flavor and looks like a castle. The interiors were decorated with armours and replicas of old furniture to evoke the atmosphere of this period. Pretty cool!! After taking a shower and eating something I left the hotel and headed for the festival. The weather was pretty HOT, it was at least 40°C. I arrived at about 16:00 and visited the shops and stores all around the concert area. Of course, I checked out the METAL MARKT and bought a couple of CD's and an Iced Earth t-shirt. One of the organizers of the festival (a friend I know for a couple of years now) gave me a pass which allowed me to enter backstage. Everything was ready for the start and we eagerly waited for the first band to play.

REBELLION
The new band of former Grave Digger members Uwe Lulis (guitar) and Tomi Göttlich (bass) opened the festival at 17:00 PM with classic German Metal. By that time, the sun was out in all its glory and the temperature very high. The crowd wasn't huge yet and lots of people were sitting under tents and trees. Overall, the fellas played quite well, but nothing spectacular. Their set consisted almost exclusively of songs off their second album "Born A Rebel". Not a bad start for the festival.

OVERKILL
The band of Mr. Bobby "Blitz" Ellsworth played a solid gig and everybody in the first rows seemed to enjoy their show. They benefited from a good sound quality for their Speed/Thrash Metal. "Necroshine", "Evil Never Dies", "Bastard Nation", "Elimination", "In Union We Stand" and "Fuck You" were some of the time bombs on their set. Bobby even stage-dived at the end of the show. I'd give them two thumbs up, even if I'm not a fan!

SEPULTURA
I only stayed for 2 songs. Sorry, I've never liked this band, and I still don't.

NIGHTWISH
I have their albums but unfortunately their show was nothing spectacular and I found them quite boring. There was almost no interaction with the crowd. They suffered from a bad sound in the beginning of the set. Their set list was: "Bless The Child", "The Kinslayer", "Come Cover Me", "Dead For The World", "The Pharaoh Sails To Orion", "She Is My Sin", "Sleeping Sun", "Slaying The Dreamer", "Wishmaster" (definitely the song that went down best) and to close the show they played a cover of Gary Moore's "Over The Hills And Far Away". An average show with not too many highlights.

SLAYER
Killer show, even better than last year at the Lorca Rock Festival. A mosh pit formed right from the start. Fans went berserk for "War Ensemble", "South Of Heaven", "The Antichrist" and the classic 1986 album "Reign In Blood", played in its entirely. The relentless riffing and energy didn't let up for a second the entire show. The sound was almost perfect.

BLIND GUARDIAN
After the sonic attack of Slayer, it was time for Blind Guardian's set. "War Of Wrath" opened the show, as usual, and then our beloved bards came onto stage erupting immediately into a massive rendition of "Time Stands Still". Instead of playing songs off their latest album "A Night At The Opera", they played the "Imaginations From The Other Side" album almost in its entirely (except for "Born In A Mourning Hall" & "Another Holy War") and this was quite a surprise! The sound was very good but I must say, Hansi's voice wasn't in its best condition. Anyway, the rest of the set included: "Banish From Sanctuary", "Nightfall", "The Script For My Requiem", "Valhalla", "Lord Of The Rings", "Bright Eyes", "I'm Alive", "Mordred's Song", "The Last Candle", "And Then There Was Silence", "The Bard's Song", "Imaginations From The Other Side", "And The Story Ends", "A Past And Future Secret" & "Mirror, Mirror". The ballads were very well received and sung along emotively by the crowd.

APOCALYPTICA
After Blind Guardian was done, I was so damn tired that I could barely stand up, therefore I returned to the hotel and went straight to bed. Unfortunately, I missed Apocalyptica, who took the stage at a very late 5:00 am.


SATURDAY - JULY 12TH

I slept for a good seven hours. I woke up at 12:00, just thankful to be still alive :-) I went down to the hotel bar and when I got there...ARGHHHH, I found out BLIND GUARDIAN was staying in the same hotel... I had breakfast with them and also chatted with Hansi (he actually remembered me from the concert in Madrid last year) and Thomen, who is a fluent Spanish speaker (as many of you know, his wife is Spanish). He told me he now lives in the south of Madrid. And that's way cool :-) André looked extremely tired and almost fell asleep in the bar table :) About an hour later or so, RONNIE JAMES DIO and his band arrived to the hotel, they all seemed busy so I didn't bother them. I came back to my room and relaxed on my bed.

The weather was hot again and cooperated for the second day in a row, with the exception of a brief sand storm during the afternoon that reduced visibility to zero. The wind was so fucking fierce we had to turn our backs to it. Fortunately it only lasted a couple of minutes but we ended up with sand everywhere, in our eyes, ears, hair...

PRIMAL FEAR
The band of Ralf Scheepers and Mat Sinner visited our country again, now with guitarist Tom Naumann (a former member who returned to the band last year after leaving in 1999) back in action. Ralf's voice was in full form. Songs that made it into the set list this time: "Black Sun", "Chainbraker", "Nuclear Fire", "Under Your Spell", "Armageddon", "Eye Of An Eagle", "Fear", "Final Embrace" and set closer "Angel In Black". They also premiered a brand new song entitled "Sea Of Flames", which went down very well with the appreciative crowd. Ralf, who is undoubtedly a big Priest fan, announced the shocking news of the reunion of Rob Halford and Judas Priest, and the band launched into a cover of Judas Priest's "Metal Gods" as homage to the fathers of Heavy Metal. All in all, a quite good show.

HAMMERFALL
A very impressive and professional performance as usual. The set list was the following: "Riders Of The Storm", "Renegade", "Let The Hammer Fall", "The Dragon Lies Bleeding" (the biggest surprise of the set, this is a song that is currently only being played at festivals), "A Legend Reborn", "Stronger Than All", "Crimson Thunder", "Heading The Call", "Hearts On Fire" and "Hammerfall". Towards the end of the show, Joacim commented on the news about Judas Priest and suddenly Ralf Scheepers appeared on stage on a bike, Halford-style. Then, the rest of the members from Primal Fear appeared on stage too and both bands together played an outstanding cover of Judas Priest's "Breaking The Law" that sent the crowd into a roar. Amazing! One of the most memorable and magic moments.

BARÓN ROJO
Spain's Barón Rojo were next on stage. This is a legendary band that achieved big notoriety outside their native Spain in early 80's, their first albums garnered them success in England at that time (they played a couple of shows at the Marquee in London and at the Reading Rock Festival'82 in front of 18,000 people, sharing the stage with Iron Maiden, MSG, Y&T, Marillion, Gary Moore and Twisted Sister). Of the 21 groups, they were the only Spanish band to perform during the three-day festival. Barring some technical difficulties, the boys gave an excellent performance that had most of the crowd singing along to all the songs in the set: "Volumen Brutal", "Breakthoven", "El Malo", "Las Flores Del Mal", "Concierto Para Ellos", "Cuerdas De Acero", "Barón Rojo", "Con Botas Sucias", "Resistiré"... All in all, it was a very good, emotive show that brought some tears to my eyes, I've spent so many hours all through the years listening to this band!!

SAXON
Nothing less that Saxon, one of my fave bands from the NWOBHM movement, was next. I love this band. It's always a pleasure to see them live and as usual, they put on a good, crowd-pleasing show. They played old classics like "Heavy Metal Thunder", "Dogs Of War", "Dragon's Lair", "Solid Ball Of Rock", "Motorcycle Man", "Denim And Leather", "Conquistador", "Strong Arm Of The Law", the absolutely fantastic "Princess Of The Night", the sing-along "Crusader" & "Wheels Of Steel". GREAT, GREAT, GREAT!!! Biff Byford & company rock the stages! Too bad they weren't allowed to play any longer...

IRON MAIDEN
WOW!!!! One classic band after another!!!!! At 23:00 it's time for Iron Maiden to enter the stage, one of the most eagerly expected moments of the festival. The crowd grew to about 25,000 metalheads. The lights finally went out and the spoken intro for "The Number Of The Beast" hit the PA and drove everybody nuts. Nicko, Bruce, Steve, Janick, Dave and Adrian took the stage and launched into the first song ("The Number Of The Beast"). Almost every mouth in Villarrobledo was screaming the lyrics. The band followed with a set that included many classics: "The Trooper", "Die With Your Boots On", "Revelations", "Hallowed Be Thy Name". "22 Acacia Avenue", "Wildest Dreams" (a new song taken from their forthcoming album "Dance Of Death"), "The Wickerman", "Brave New World", "The Clansman", "The Clairvoyant" (Eddie made his appearance at this point), "Heaven Can Wait", "Fear Of The Dark", "Iron Maiden", "Bring Your Daughter...To The Slaughter" and "Run To The Hills". The only song that was left out was "2 Minutes To Midnight". Steve, Bruce and company were very active on stage and the sound was very good. All in all, absolutely incredible show under a beautiful full moon.

DIO
OOOHH... well... This MUST BE HEAVEN!!!!! Once Iron Maiden was done, it was time for the voice of Metal himself, Ronnie James Dio, to grace the stage. Unfortunately, due to personal problems I had to leave after the first few minutes :((( but from what I was told they put on a great performance.


SUNDAY - JULY 13TH

I woke up at about 11:00 and while I was having breakfast, I saw Timo Kotipelto from STRATOVARIUS hanging out in the hotel bar. I have met him multiple times and I think he remembered me from previous concerts, he got a laugh when he saw me and said "oh, I have seen you many times before!" :-) Anyway, I went out for a walk around the town before returning to the hotel to have lunch and get ready for the last day of the festival.

DARK TRANQUILLITY
I never heard this Swedish Melodic Death Metal band till today. Enjoyable show, but nothing extraordinary for me.

EXODUS
Classic Bay-Area Thrash Metal. This one was certainly not a bad band, but nothing special again. They suffered from the worse sound of the day.

IMMORTAL
One of the most popular Black Metal bands around, Norway's Immortal, took the stage next. Visually, the band was very impressive with make-up, leather and spikes. "Wrath", "Tyrants", "One By One" and "The Sun No Longer Rises" were some of the songs that they played. I'm not a big fan of Black Metal but hey, I enjoyed their show very much!! The singer seemed to have a good sense of humor and made the audience laugh a few times, for example, when he screamed "fuck the sun!" (we totally agreed with him on this, the heat was still unbearable at 19:00 in the evening). Too bad the band splitted up...

KREATOR
Kreator plays just about every metal festival known to man!! I have seen them twice this year in less than two months. They unleashed an aggressive Thrash attack with a similar set list to the Torres Rock show. Mille Petrozza had the crowd eating out of his hand shortly into a set that began with "Violent Revolution". Following this song came "Reconquering The Throne", "Extreme Agression", "People Of The Lie", "All Of The Same Blood", "Phobia", "Pleasure To Kill", "Servant In Heaven-King In Hell", "Terrible Certainly", "Riot Of Violence", "Betrayer" & "Flag Of Hate". Simply an amazing show courtesy of these classic German Thrashers. By the way, the band have recently released a killer live DVD, don't miss it!

MASTERPLAN
WOW! I loved these guys! They took the stage at about 22:30 pm and I was completely blown away. Quite a crowd gathered as they launched through their killer set with songs like "Spirit Never Dies", "Enlighten Me", "Crystal Night", the sugary-sweet and helloween-esque "Heroes", "Soulburn", "Kind Hearted Light", "When Love Comes Close", "Bleeding Eyes", "Sail On" and the aggressive "Crawling From Hell". Vocal god Jorn Lande was moving like hell the whole show. His voice wasn't as good as it was in Madrid last January. Nevertheless, he sang his heart out for us. The only low point was the sound.

STRATOVARIUS
Stratovarius were again back in Spain after just three months. Although it was a good show, it was nowhere near as good as the one in Madrid last April for several reasons. First, they suffered from some technical difficulties with the keyboards. Second, Kotipelto's voice wasn't in its best shape. Third, the set list was too damn short this time. On the good side, the sound was great, and the set list featured 3 songs not played on their last tour: "Kiss Of Judas", "Legions", "Soul Of A Vagabond", "Hunting High And Low", "Speed Of Light", "Against The Wind", "Twilight Symphony" (this one went down amazingly), "Paradise" & "Black Diamond". Overall, a quite good show, with some highlights and some low points.

MOTÖRHEAD
After a desperately long sound check, Lemmy, Mikkey and Phil finally got on the stage to kick some ass with their endless run of hits: "We Are Motorhead", "No Class", "Ramones", "Civil War", "God Save The Queen", "Metropolis", "Sacrifice" (featuring a drum solo), "Killed By Death", "Ace Of Spades", "Overkill"... As always, Mikkey Dee was impressive on drums, a thunderous presence the size of a continent. My jaw was dropping as I watched him play the hell out of his drum kit, relentlessly attacking each beat without pause. Surely this man will collapse of a heart attack on stage someday!

The concert ended at about 4:00. That night I didn't sleep. When I came back to the hotel I laid down on my bed to rest for a while and packed my stuff. At 6:30 I went down to the hotel entrance and Timo Kotipelto, Timo Tolkki and Jens Johansson from STRATOVARIUS and Uli Kusch and Roland Grapow from MASTERPLAN were still sitting in the bar, drinking beer. Both Timos looked a bit drunk :)) We joked a bit with them, soon Tolkki started yelling strange obscenities in Spanish... hahaha!!!! Finally, I said goodbye and walked down to the bus-stop where everybody luckily arrived in time.

And thus ends the first edition of the Metal Mania festival. I wonder what the lineup will look like next year (it seems that 3 bands are already confirmed). The organizers are going to have to work really hard to top this one!! -Review by Marina-



Some pics taken backstage and at the hotel...

Me & Uwe Lulis (Rebellion)



Me & Randy Black & Björn Eilen (Rebellion)



Me & Roland Grapow (Masterplan)


Me & Hansi Kürsch (Blind Guardian)
Saturday morning at the hotel



Me & Thomen Stauch (Blind Guardian)
Saturday morning at the hotel



Me & André Olbrich (Blind Guardian)
Saturday morning at the hotel


Me & Dave Murray (Iron Maiden)



Me & Timo Kotipelto (Stratovarius)
Sunday morning at the hotel



An encounter with an Immortal :)


Me & Oscar & Joacim (HammerFall) watching Maiden playing



Me & Mat & Klaus (Primal Fear)


Me & Biff Byford (Saxon)



Me & Doug Scarrat (Saxon)



Me & Magnus Rosčn (HammerFall)


Me & Mikkey Dee (Motörhead)



Me & Ralf Scheepers (Primal Fear)



Me & Derek Tailer (Overkill)