Lineup :
Andre Matos : Vocals, keyboards
Kiko Loureiro : Guitars
Rafael Bittencourt : Guitars
Luís Mariutti : Bass
Ricardo Confessori : Drums
Discography :
Reaching Horizons Demo (92)
Angels Cry (93)
Evil Warning EP - Japan only (94)
Holy Land (96)
Freedom Call (96)
Holy Live - Recorded at L'Aquaboulevard in Paris during the Holy Tour (97)
Single Lisbon (98)
Fireworks (98)
History
Angra is a Brazilian from São Paulo, created in November 1991 by Andre Matos (ex Viper) and Rafael Bittencourt, with Luis Mariutti and Marco Antunes, who are soon joined by Kiko Loureiro. Each one came from various bands, but only Andre had an international level experience. The goal was to play Heavy Metal with classical influences.
This meeting of gifted musicians quickly produced a demo, Reaching Horizon, which allowed them to get a contract for their first album, Angels Cry...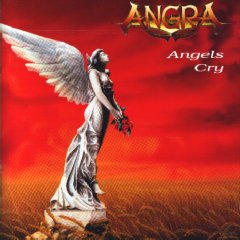 Recorded in 1993 in Hamburg at Kai Hansen's studio (Gammaray) and produced by Charlie Bauerfeind (Heavens Gate, Blind Guardian...) and Sascha Paeth (Heavens Gate), this album is released in 1993 in Japan and in July 1994 in Europe. Marco Antunes having left the band before the recording, the drums part are played by Alex Holzwarth (Sieges Even), until Ricardo Confessori arrives.
This album is a real event and is quickly acclaimed by all. Angra collects awards in many magazines.
Technically and musically, this album is excellent and very rich. Some songs are a perfect mix between classical and Metal (you can find some parts from Vivaldi on "Evil Warning", Paganini and Mozart on "Angels Cry", Schubert on "Unfinished Allegro").
Chosen songs : Carry On, Time, Angels Cry... All are excellent...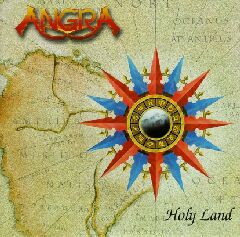 The band isolate themselves during 4 months in a farm near São Paulo in June 1995 in order to conceive their second album, then come back in Germany to record it, still with Charlie Bauerfeind and Sascha Paeth. Andre Matos having suffered from serious vocal problems, the album is released on March, 22nd 1996.
This album shows an evolution : Brazilian influences are far more present and compositions are richer. You need to listen several times each song to perceive all their subtlety.
Chosen song : Carolina IV which I think best summarize this album, by its great diversity and richness.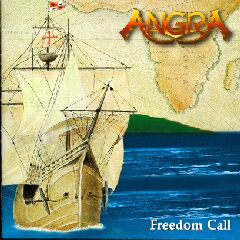 Released shortly after Holy Land, this mini-album contains re-recording of songs "Queen of the Night" and "Reaching Horizon" from the Reaching Horizon demo, an orchestral version of "Stand Away", edit version of "Deep Blue", a cover "Pain Killer" (Judas Priest), and a new song, "Freedom Call".
Chosen songs : Holy Land orchestral version, which is beautiful, and Reaching Horizon, a wonderful ballad.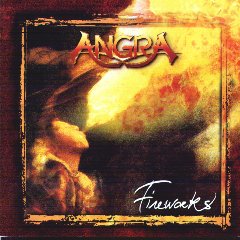 In the beginning of 1998, the band starts the recording of their third album at Metropolis Studio, in London, with producer Chris Tsangarides (Ozzy Osbourne, Helloween, Judas Priest...). Fireworks is released on September, 4th 1998.
Again, the band evolves and doesn't locks up in a style : this album has a more "Metal" sound, containing less orchestral arrangements and more present guitars.
Chosen songs : Lisbon, Paradise...
Liens
Web of Reality - Official French site