Aaahh...a visitor. I take it you're a

fan. Stick around and I'll tell you a little story...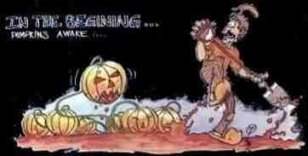 The first pumkin-seeds were planted in 1978, when Kai Hansen started the band "Gentry". During the next few years new members are joining him, and "Gentry" turns into "Second Hell", later on into "Iron Fist". The seeds are growing fast, and in 1984 the band switch their name to "HELLOWEEN", and that's when the....PUMPKINS AWAKE.
Their first album, Helloween, landed on planet earth in 1985, Walls of Jericho and Judas were released only a year later.

The most popular albums ever made by Helloween is whithout doubt the "Keeper of the Seven Keys" albums. Part I was released in 1987, and part II in 1988. Those albums made Helloween famous all over the world, especially in Japan and the USA.


In 1989, Kai Hansen leaves Helloween to start a new band called "Gamma Ray". The rest of the band keep playing together, even though there's some hard feelings between the band members. They released a couple of records (Pink Bubbles Go Ape, Chameleon), but the tension between the band members is getting worse. Ingo is getting addicted to alcohol and drugs, and it's beginning to show when he's on stage. After the Chameleon tour the other Helloween members ask him to leave the band and try to take care of his problems. At the same time Kiske leaves, since he and Weikath couldn't cooperate.
Andi Deris starts singing for Helloween, and Uli Kush take over the drums. In 1994 the album "Master of the Rings" is released.
The 8th of Mars, 1995, Ingo comitted suicide (R.I.P.)
The album "The Time Of The Oath" was released in 1996, in loving memory of the late Ingo Schwichtenberg.



In 1997 the next album "Better Than Raw" was released, and they made a worldwide tour togeher with Iron Maiden in 1998, and Metal Jukebox, a cover album with a lot of great songs showed up in 1999.
During the fall of 2000, they released their next album, called "The Dark Ride"

I saw the Dark ride-concert in Stockholm this spring, and you know what? THEY ROCKED!!! You can see a couple of pics from the gig in the gallery. Don't miss it!
In august 2001, Uli Kusch and Roland Grapow has been kicked out of the band. Uli is being replaced by Mark Cross from Metallium. Helloween is still looking for a new guitar-player. The band is about to release a "Best of"-album very soon, wich will be a double-album. During the spring they will enter the studio to record their next album. Stay tuned for more info!