Track One: The Gates of Bosphorus
Track Two: Transcendent
Opening the album is a very Iron Maiden meets Helloween guitar interlude, compliments of Billy Chrissochos & Kostas Psarros, with some big drum fills, thanks to the drumming genius of Wayne Noon. The opening guitar riffs for "Transcendent" continue with a very melodic and upbeat feel. Lots of "squealies" and pinch harmonics add a nice touch. Teresa Gaffney's vocals are both strong and soothing. Her range is the female equal of Bruce Dickenson meets Evanesnace. A soft touch with a strong bite, PHOENIX REIGN starts things off just right!
Track Three: Masquerade Angel
Some flange guitar with some deep & heavy bass opens "Masquerade Angel". Soaring vocals and very nice backing vocals give a strong presence to this song. The mixture of a lead female lead vocalist with male backing vocals works VERY well here; a union of fire and ice. The chorus is a big sing-along with that killer guitar riff that opened the song. Both alto and soprano vocal capabilities are displayed here with skill. The guitar solo is dead on Helloween influenced & kicks ass.
Track Four: Forgotten
Some soft, beautiful acoustic guitars open "Forgotten", which then explodes into heavy guitar riffs and some chugging rhythm. I have noticed a very strong backbone of bass from Mr. Chris Pollatos and drum from Mr. Wayne Noon thus far, and this song is no exception! All the same elements of this great band shine through this song in vocal capabilities, guitar solos and riffs, and great bass and drum structure.
Track Five: Another Night Alone
Having heard the demo version of this song, it is nice to see "Another Night Alone" have an official album release. Being polished in all aspects of sound (production, tweaked vocals and guitars, etc), this track is a great improvement from its demo version. A true sing-along, upbeat song, "Another Night Alone" has, over the years, become a calling card song for Phoenix Reign. Check out the big chorus and galloping guitars!!!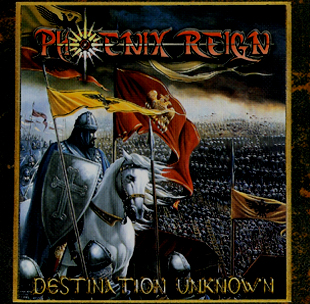 Track Six: Open Your Eyes
Chugging, palm muted guitar (which sounds like a ticking clock) opens "Open Your Eyes". Teresa's vocals are absolutely fantastic here, being both powerful and passionate. The guitar riffs are simply memorable and skilled. The drums never skip a beat; this song has it all. Another sing-along classic, "Open Your Eyes" is a timeless metal masterpiece!
Track Seven: Run Now
Ever hear a guitar riff that makes you hum it to yourself over and over again? That's the reaction you'll get with "Run Now". As we're seeing again here, Phoenix Reign has recorded another sing-along, upbeat song. Complete with soaring vocals, ripping guitar, and strong bass and drum, "Run Now" demands immediate head banging!!
Track Eight: Wherever You Are
Soft and soothing semi-acoustic guitar with deep bass open "Wherever You Are". After a relaxed and quiet tone has been set, the drums and guitar blast through with a pounding and chugging effect. High, soaring vocals REALLY grab on and simply don't let go. Teresa's vocals really shine here, and the guitar work is amazing. This song is yet another winner!!!!!!!!
Track Nine: Destination Unknown
Complete with killer drum & bass, chugging guitar, and soaring vocals, title track "Destination Unknown" rocks. Another Helloween influenced guitar riff and strong chorus prove once again the majestic talent of this band. The raspy & gritty end to the song is a great way to go out!
Track Ten: Moving On
A mid-paced ballad with sharp guitar is found in "Moving On". Another strong chorus presents itself, as heard throughout this album. The guitar riffs remind me of "Where The Rain Grows" from Helloween.
Track Eleven: Constantinople 1453 (On the Eve of the Fall)
Opening with some acoustic guitar (almost Flamenco style), "Constantinople 1453 (On the Eve of the Fall)" sets a medieval atmosphere, complete with tolling bell sound effects and atmospheric keyboard. Once the song picks up, an AMAZING guitar riff leads on a metal onslaught, telling the story of the deaths of many. Truly an epic song, "Constantinople..." has all the hooks, leads, and powerful vocal execution which will embed itself into metal history. This is truly a fantastic way PHOENIX REIGN chose to close this album!!!! Check it out!!!!!!!!
So many New York bands.....so little time. PHOENIX REIGN is armed with an array of talent inclusive of amazing guitar riffs, pounding bass, smashing drums, and soaring, powerful vocals. As many bands come and go, leaving only a doppelganger shadow on metal, PHOENIX REIGN spreads its wings and soars above the rest with their brand of Power Metal. I will not be surprised to see this band opening for the likes of Maiden or Helloween one day......
RATING: 10 of 10
MYSPACE PAGE

OFFICIAL WEBSITE

Review by - Anthony DeLuca

WITCHFYNDE
Play It To Death
(c) 2008 Witchfynde Music
Track One: Play it to Death
A palm-muted guitar riff, compliments of Montalo, opens the title track to the newest Witchfynde album, "Play it to Death". I immediately noticed the heavy bass of Pete Surgey played along pounding drum from Gra Scoresby in this track. Vocalist Harry Harrison returns with this as his second studio album with Witchfynde, and all his trademark vocal executions remain. For anyone not familiar with Harry's vocals, try to imagine a raspy, harsh & bluesy vocalist with just the right touches of soaring and melodic singing. Harry is a sheer breath of fresh air, and fits well with the NWOBHM sound. Check out the guitar solo in this song; the bass and drum in the background are solid!!!! This is a very strong start to what winds up being an impressive album.
Track Two: Holy Ground
The heavy bass and drum continue to dominate alongside mid-paced guitar and strong vocals in "Holy Ground". The time signature of this song is awesome, and the chorus is both memorable and soulful. NOTE: I LOVED the way "chaos" and "thunder" were sung!!!!!! Yet again, a ripping guitar solo is executed.
Track Three: Elements
Earth, water, air and fire....sung right off the bat with a little distortion sets the stage for a balls out KILLER song in "Elements". The chorus is simple: just a simple vocalization of the element names again. After some soaring vocals, some screaming, killer guitar licks are thrown into the chorus. This song rocks!
Track Four: Sticks and Stones
After a soft acoustic opening, the electric guitar goes straight for the jugular in "Sticks and Stones". Raspy and soaring vocals maintain a mid to fast-paced song that I can only describe as a "feel good" kind of song. The chorus really brings that feeling home: "Sticks and stones can break my bones, But I can't get much higher.....It's my life, I decide...whatever I desire". The time change to guitar solo is awesome.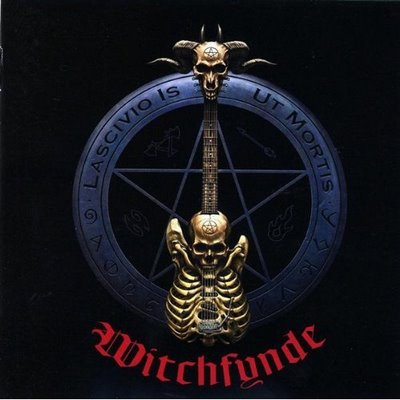 Track Five: The Darkest Places
The way the drum opens this song didn't feel too right to me. It wasn't until the guitar really chimed in that it sounded good. The harminized "Wooooh"s really added a punch too. The bass and drum are heavy again, and the chorus rocks. The pace slows with some slow, palm-muted guitar playing along side creepy sound effects: the chants of little girls singing "Ring Around the Rosie". I'm not too sure how I feel about this part of the song - it's going for a dark and errie feeling which I kind of felt, yet it also ruined things a little for me too. I really didn't want to have some little girls singing this song cranked on my speakers. LOL....maybe a more demonic sounding little girl??? Other than that, this song rocks.
Track Six: Life's a Killer
Another powerful and upbeat song is found in "Life's a Killer". The guitar riff played thoughout the song adds to this feeling, and the solo ripps!! This song kind of has the same vibe as Maiden's "Weekend Warrior".
Track Seven: Three Wise Monkeys
Maintaining an upbeat and strong sound, "Three Wise Monkeys" is executed with a melodic guitar, heavy bass and drum, and soulful & powerful vocals. The guitar riff is a cross between Steve Vai meets Boston.
Track Eight: Shame the Devil
This is a cover of a song originally recorded by Robin Trower. I've never heard the original version, but the way Witchfynde plays this song, it sounds like their own, and that rocks.
Track Nine: Love Like Sin
Some Pink Floyd-esk guitar opens "Love Like Sin". Harry really puts a lot of emotion behind this song, which is about a woman dealing with abuse. I wouldn't really call this song a ballad, however it does have some ballad overtones, setting an emotional mood. The bass is absolutely bone chilling in this song.
Track Ten: Paint it Black
The Witchfynde version of the Rolling Stone's classic "Paint it Black" is nothing more than seer brilliant! Once again, Witchfynde takes a cover song and makes it their own , adding their signature guitar sounds and vocal melodies. Even though this version isn't the exact cover of the original, one can still appreciate how Witchfynde can take such a classic song and make it sound like one of their own. THAT is truely impressive. Check this out!!!!!!!! Kudos for the AWESOME guitar riff at the end of the song.
What we've got here is a classic NWOBHM band delivering a fresh, new album WITHOUT sounding stale dated. Add the rejuvinated cover versions, killer artwork, and crisp production, and you've got a fantastic blend of success. Fans of the Old School will saviour this album, and those who are unfamiliar should take a lesson from these NWOBHM masters. Do this, and you'll find yourself obeying the title: playing this album to death.
RATING: 9.8 of 10
MYSPACE PAGE

OFFICIAL WEBSITE

Review by - Anthony DeLuca

VENDETTA
Heretic Nation
(c) 2010 Lion Music
Track One: Delusion
The fast paced "Delusion" contains tons of hooks sure to win the interest of Helloween and Iron Maiden fans. The drum and bass are solid has hell, and the vocals remind me of a cross between Edguy meets modern Saxon. There's a nice mixure of soaring and aggressive vocal execution, and the guitar solos are tight!
Track Two: Age of Annihilation
The galloping drum and bass open with a great guitar riff on "Age of Annihilation". Despite its song title, "Age..." is an upbeat tune with lots of great guitar riffs and a sing along chorus.
Track Three: New Horizon
The fast pace is slowed a bit in "New Horizon", however this track has a fantastic guitar riff and awesome palm-muted chugging rhythm. The vocals are strong and really play on the powerful rhythm. The bass lead followed by, then accompinied by chugging guitar really adds to the heaviness of this song.
Track Four: My Revelation
Upbeat and fast paced "My Revelation" has an almost Judas Priest influenced riff. Screaming guitar licks and pounding drum and bass compliment the soaring and aggressive vocals. Check out the killer guitar solo here!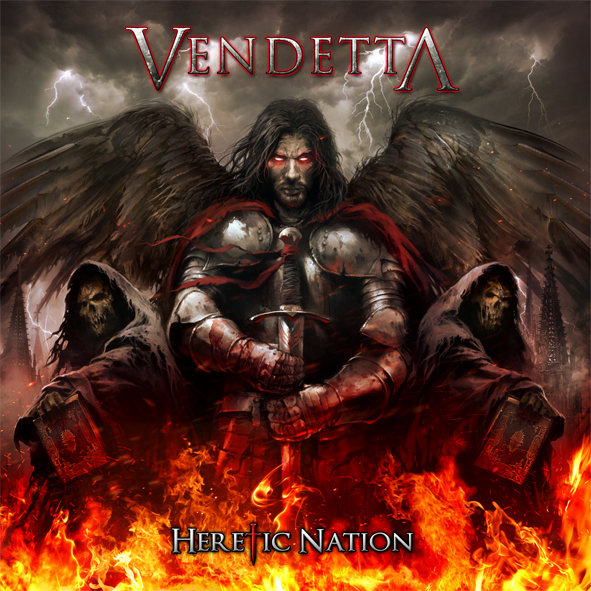 Track Five: Skaro
A melodic and upbeat instrumental is found in "Skaro". The guitar is smooth and skillfully played without overdoing it or showing off. The rhythm is killer, incorperating a great drum beat. I noticed some NWOBHM influence in the track. I liked how the song slows down with some acoustics, then slowly builds up again with a nice chiming bass and palm-muted guitar.
Track Six: A Glass Half Empty
A fast paced guitar riff plays along side killer drum and heavy bass in "A Glass Half Empty". Soulful vocals are executed at the chorus, as well as adding a little edge in the verses. Some acoustics slow things down a bit, and some bass ala Iron Maiden shines through. Vocalist Edward Box really displays his rang on this song. The guitar solo is powerful and emotional.
Track Seven: Killing Time
A lot of modern era Saxon (Unleash the Beast album comes to mind) influence is heard in "Killing Time". High energy, aggressive vocals accompanied by fast and melodic guitar dominate the sound in this track. The guitar solo really shines on this song.
Track Eight: Face Your Demons
By far my favorite song on this album, "Face Your Demons" is a fantastic song equipped with an amazing guitar riff, heavy bass & drum, and commanding vocals (with a touch of distrortion). After an amazing guitar solo, some acoustic guitar chimes in with some nice vocals. The pace quickens once again with that fantastic guitar riff. Mid-paced & heavy, "Face..." is a metal masterpiece.
Track Nine: The Space Between
This track instantely reminds me of a Pink Cream 69 song from the Andi Deris Years - "Down on Your Luck". Great guitar licks and some semi-acoustic rhythm come together with passionate vocals and chugging guitar. The solo is amazing!!!! This song has a nice blend of power, passion, heaviness, and ballad reminicent overtones.
Track Ten: Powers That Be
Heavy guitar and drum lead the way with some deep and heavy bass in "Powers That Be". The guitar riff in this song reminds me of something I might hear from Testament. This track has a nice mixure of heavy guitar & drum, soaring and aggressive vocals, and a deep bass backbone. Once again, Vendetta pulls through with a great guitar solo.
VENDETTA offers a dish of Traditional & Power Metal to the masses in this album, Heretic Nation. Maintaining their own musical sound while keeping well rooted in their influences, VENDETTA has succeeded in creating a musicial masterpiece. I find myself listening to this album a lot, and it is for that VERY reason. Check out this band; you will NOT be disappointed.
.......Oh, and cheers for the KICK ASS album art!!!!
RATING: 10 of 10
MYSPACE PAGE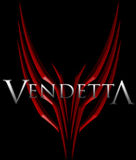 OFFICIAL WEBSITE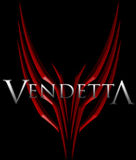 Review by - Anthony DeLuca

IRON MASK
Shadow of the Red Baron
(c) 2010 Lion Music
Track One: Shadow of the Red Baron
Airplain & machine gune sound effects lead into the opening of some FAST palm-muted guitar in the title track, "Shadow of the Red Baron". This track waists no time injecting a full metal assault; the drumming of Erik stout is fast, the guitar playing of Dushan Petrossi is melodic and neo-classical, and the choruses are big. Take the vocals of old Rough Silk and recent Angel Dust and you've got the harsh, powerful, and soaring sound Valhalla Jnr belts out. What a way to start off an album: go for the jugular!!!!
Track Two: Dreams
Guest vocalist Oliver Hartmann continues the melodic and powerful assault on "Dreams". Oliver can be compared to Mike DiMeo of Riot meets Russel Allan of Symphony X. The chorus reminds me of a lost Yngwie Malmsteen song from the Trilogy album. Complete with another big, sing along chorus, fast drums, soaring guitar, and heavy bass, "Dreams" is another winner!
Track Three: Forever in the Dark
Some keyboard softly leads into a melodic guitar riff in the opening notes of "Forever in the Dark". I think the opening chants are Latin, which play into Vahalla's harsh and soaring vocals. Yet another powerful chorus presents itself here; I really didn't like the whole bombastic chanting. There are great gutiar leads as usual, but this song didn't really do anything for me.
Track Four: Resurrection
Strong guitar leads give a great start to "Resurrection". The vocals continue with an even stronger edge than before. The chorus displays a lot of vocal range, then as soon as the next verse begins the vocals switch back to an angry and powerful tone. Complete with great guitar hooks, powerful and soaring vocals, and another round of heavy drum & bass, "Resurrection" is a mid-paced winner!
Track Five: Sahara
The opening guitar in "Sahara" is very upberat and sounds very fresh!!!!! When the drum, bass, and keyboard kick in, one cannot help to get into the beat. Then, some guitar licks kick in, adding a certain punch to the mixure. The chorus is another sing along winner; the time change at the guitar solo is heavy and really intensifies things. This mid paced to fast song rocks!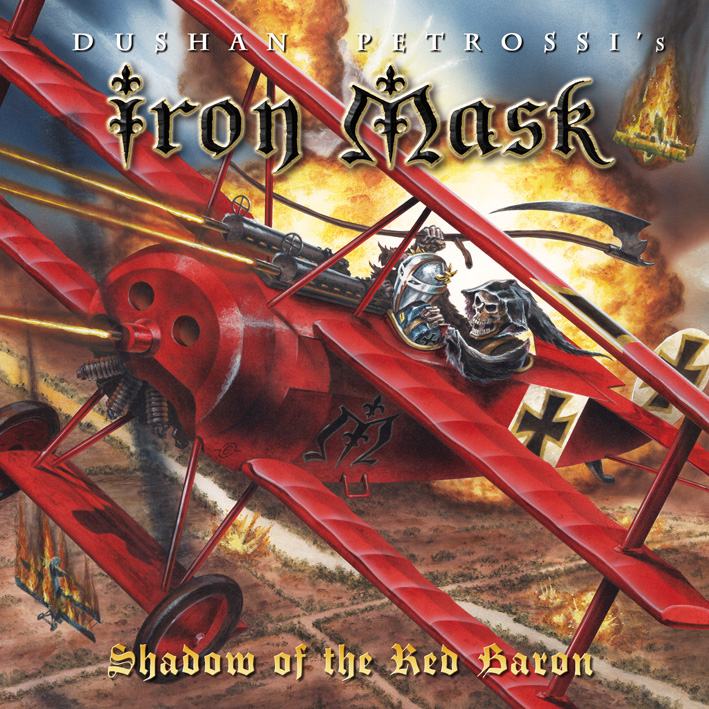 Track Six: Black Devil Ship
One cannot help but be reminded of RUNNING WILD when hearing this song. The rolling drum, AMAZING harminized guitar sound, and hint of keyboard are all part of an unforgettable Heavy Metal riff sure to be a classic!!!! Another strong chorus presents itself here, and each verse is a mid paced indulgence in soaring vocals and heavy guitar & bass. You gotta love that guitar riff!!!!!!!!!!!!!!!!!!
Track Seven: We Will Meet Again
Pounding drum and deep bass lead into some amazing guitar leads in "We Will Meet Again". Things settle down with some semi-acoustic guitar as athe vocals chime in, only to pick up again further into the verse. The chorus is another big sing along winner! This song is kind of structured the way IRON MAIDEN goes about things, with that trademark gradual build up to heaviness. The vocals here really show a sweet and emotional side for a short time, further displaying the great range found in Vahala.
Track Eight: Universe
The opening notes of "Universe" scream Yngwie Malmsteen!!!!!!!! The whole Neo-Classic Power Metal thing is NAILED here, complete with shredding guitar on top of keyboard. Soaring vocals add a certain punch here. This song really pulls out all the stops musically, especially heard in the solos. Fans of Yngwie rejoyce!!!!!
Track Nine: My Angel is Gone
Sweet and angelic female vocals accompanied by acoustic gutiar and soft keyboard overtones open "My Angel Is Gone". Emotional & strong vocals prevail, alongside some amazing guitar work. This song really hits a nerve!!!
Track Ten: Only the Good Die Young
Upbeat and melodic guitar opens "Only the Good Die Young". The bass and drum are heavy as hell in this song, along all the chugging guitar. Another huge chorus presents itself here, and the vocals are both soaring and aggressve.
Track Eleven: Ghost of the Tzar
Peaceful sounding keyboard preludes to an evil spoken word intro. More Yngwie overtones shine through in the guitar work, roped in with death metal vocals. This combination works well here, however I felt the lyrical contect could have used more work (rather than chanting "Ghost of the Tzar" over and over again).
With this being my first exposure to Iron Mask, I must say that I am quite impressed. The powerful vocals, melodic guitar, atmosphereic keyboard, and heavy bass & drum all present themselves with musical clairity and entertainment. Add in the huge, sing along choruses & you've got all the ingredients for a fantastic band.
RATING: 9.5 of 10
MYSPACE PAGE

OFFICIAL WEBSITE

Review by - Anthony DeLuca

MASTERMIND
Insomnia
(c) 2010 Lion Music
After a long hiatus, Mastermind have finally delivered a new studio album. Armed with a new vocalist at the helm (Tracy McShane has been with the band for several years now, however this is her first full length album with the band) and the returning talents of Jens Johansson at keyboard, Mastermind are set to continue their impressive display of musicianship.
Track One: Desire
The opening atmospheric overtones in "Desire" are something out of an epic fantasy movie, thanks to the keyboard work of Mr. Jens Johansson (ex Yngwie/ current Stratovarious). Vocalist Tracy McShane really soars, starting with some sweet "ooos" followed by strong and griping vocal melodies. She even adds in some gritty yells at the near climax of the song. Tracy's vocals are very similar to ex-vocalist's Lisa Bocchelli's, however Tracy's vocals are more on the Rock/Metal sound, as opposed to an operatic sound. The guitar work of Bill Berends is polished and really shines at the solo. Rich Berends' drum work maintains a great beat throughout this track.
Track Two: Break Me Down
The combined vocals of both Tracy and Bill really give "Break Me Down" a unique sound. The keyboard plays along with Tracy's high and low notes, and the guitar is dark and heavy. This track has a lot of Tool & Goth Metal overtones.
Track Three: One More Night
Some acoustic guitar and keys slow things down in "One More Night". Bill really shines here, taking lead vocals, as he performs with a lot of emotion. Tracy's sweet overtones really give a certain punch to this song. Once the pace quickens, the guitar plays along the vocal lines of both Tracy and Bill. The keyboard really adds an emotional touch to this song.
Track Four: Meltdown
Some bass and chugging guitar open "Meltdown", which is mainly a slow and gritty track. Tracy and Bill once again display their vocal capabilities in their duets; it's like fire and ice, and the combination these two create works really well.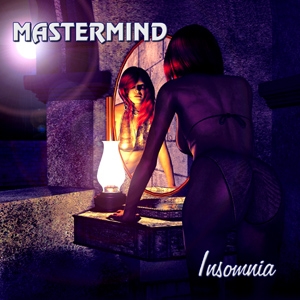 Track Five: Piggy World
Originally released on the "Broken" EP, "Piggy World" is a fantastic track about working for "the man" and how it just sucks. A sweet and melodic chorus is met by an angry and rough-around-the-edges verse. This song is a great mixture of power and emotion, and can really bring a smile to your face. Having a bad day at work?? Listen to this song!!!!!
Track Six: No Answer
This song is both powerful and thought provoking. Filled with emotional lyrics and keys, "No Answer" also makes me wonder which way to portray this song. Is this about a former lover or someone close who has now passed away. This song is sure to send chills down your spine and remember the time when you received "no answer".
Track Seven: Broken
Originally released on the "Broken" ep, "Broken" is one of those songs that really sticks in your head. Soaring vocals, chugging and melodic guitar, atmospheric keyboard, and pounding drums all invoke a tapping foot or nodding head. One of the heavier and faster songs on this album, "Broken" is an amazing track with every Mastermind foot printed sound you've come to expect.
Track Eight: Night Flier
Combine fast and insane drum of Rich Berends with the almost Steve Vai sounding, yet original guitar of Bill Berends and you get a Metal/Rock/Jazz/Fusion of instrumental bliss. This song makes AWESOME driving music.
Track Nine: Nietzsche
Some really cool bass opens "Nietzsche", which then leads into some slow and melodic guitar. Tracy's soaring vocals are accompanied by chugging guitar and Dream Theatre-esque keyboard. Bill really shows his backing vocal's capabilities, singing in a very deep baritone. The song finishes with the guitar and keyboard playing the same notes Tracy sings.
Track Ten: Last Cigarette
Slow rhythm guitar plays along side keyboard as the vocals chime in on "Last Cigarette". Tracy's haunting voice has a bluesy and sweet sound to it. When Bill comes in for the duet, the same "fire and ice" effect enhances the emotion of this track. I really feel this is a cleaver way to close the album, particularly noting the song title.
Mastermind has accomplished what few bands can - a diverse album with an array of influence from blues to metal to prog and back again. Each track here stands by itself, however this album should be listened to in one sitting. The flow of music and the impressive composition are amazing; one listen and you are hooked. In a sea of cookie-cutter bands, Mastermind breaks the mold and leads the way.
RATING: 9 of 10
MYSPACE PAGE

OFFICIAL WEBSITE

Review by - Anthony DeLuca

GODS OF FIRE
Hanukkah Gone Metal
(c) 2009 Independent
Track One: Eight Days Of Victory
Opening up with an almost Ska vibe, "Eight..." blows past ALL musical barriers and proves GODS OF FIRE as a both talented and diverse Metal Band. Behold, the very first Heavy Metal Hanukkah album. Complete with lead guitar hooks, soaring & high vocals, and a strong bass and drum backbone, "Eight..." tells the story of the Hanukkah candles and menorah. This is truely epic material! Get schooled and have your ears blown away at the same time!
Track Two: Oh Hanukkah
A nice bass solo introduces the second track, "Oh Hanukkah". Complete with some groovey keyboard, raw and soaring vocals, and catchy guitar riff, "Oh..." is a cool song (which is apparently a traditional Hanukkah song, but I've never heard it before)!
Track Three: No Gelt, No Glory
Crunchy & soaring guitar with some manic drum and bass open this foot stomping, feel good song. Honestly, I HATED this song when I first heard it, but it is growning on me. Lots of sing-along parts, upbeat tempo, and soulful singing will perk your ears in interest.
Track Four: The Quest for the Latke Oil
Continuing the Hanukkah story, "The Quest..." maintains a very epic sound from start to finish. The chorus is a head bangers delight, complete with passionate vocals, heavy guitar, and some killer licks thrown in for good measure. Clocking in at almost seven minutes, "The Quest..." is a traditional Heavy Metal song with both interesting lyrical content and stong musicianship.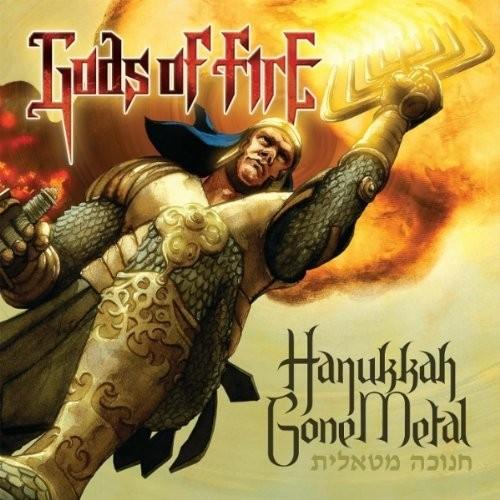 Track Five: Spin for the Blood of our Elders
One of my favorites on this album, "Spin..." opens very atmospheric with some spoken word, all met by soaring vocals. Gotta love the guitar riffs in this song, not to mention the "yeahs"....awesome stuff! Get schooled on the Maccabees and King Antiochus. Lots of sing-along parts here, especially the chorus. Tons of guitar licks, pounding bass and drums, and constant soaring and powerful vocals. Two thumbs up here.....A short but VERY sweet classic!!!!
Track Six: Hanukkah Gone Metal
Complete with some serious metal musicianship and comical lyrical content, "Hanukkah Gone Metal" is sure to bring a smile to your face! One cannot help but sing along with the chorus, AND relate to the various items "received for Hanukkah", such as "The sadness of oversized socks" and "The gift of METAL!". Fantastic guitar solos, pounding bass, and soaring vocals make this one a winner!
Track Seven: Havenu Shalom Alechem
"Havenu..." is another traditional Hanukkah song. Once again, I've never heard it before, but this sounds like something I'd wanna drink a beer and dance to. Upbeat guitar and drum keep things lively after a soft and sweet beginning. Make a circle and let's dance (or something)!!!
Track Eight: Taking the Temple
My ALL TIME favorite on this album is "Taking the Temple". This song is divided lyrically into three parts: Atrocities of the King , The Fight Begins, and Taking the Temple.
Opening semi-acoustic guitar with emotional guitar and vocal REALLY expose the pain felt when the Jews were enslaved. EPIC, CLASSIC stuff here!!!!!! The second lyrical section has an awesome bass and drum with acoustic guitar interlude. The pace and heaviness intensifies and leads into another AWESOME guitar riff. The vocals are powerful and soaring (again), and the guitar simply kiss ass!!!! The third lyrical section discusses the battle at which the Jews were triumphant. Guitar elements in vein of HELLOWEEN and MAIDEN push the envelope with that "Gods of Fire" sound. I've come to know a Gods Of Fire guitar solo when I hear one, and what you get here is something comparable to the metal masters who influenced them! The same guitar riff that opened the song closes it (kind of reminds me of "Prometheus Unbound"). AWESOME stuff here. Try not to listen to this song over an over again.....don't worry, I couldn't help it either!
Closing thoughts: Get schooled on some Jewish history with some killer metal!!!! Gods of Fire NAIL it again, and I'm STILL WAITING for "Headless Horseman", "Land Beyond the Dark", "Phoenix", and "Doom's Dark Hour" to be released. Those songs are AMAZING!!!!!!!!!!!! My complaints: I missed Prometheus here, but Sir Judah Leopold the 666th (nice name!) is a GREAT vocalist. I'm not too happy about the album art - maybe something a little more interesting, although I get where the band was going with this idea.
RATING: 9 of 10
MYSPACE PAGE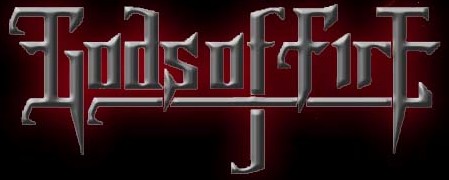 Review by - Anthony DeLuca

RED WARLOCK
Sabrewolf
(c) 2009 Independent
RED WARLOCK is a metal band based out of Italy. Classified as "Heavy Metal with epic influences, but dark and modern at the same time", this band has packed into a short six song promo album a LOT of talent and huge display of fantastic musicianship. Take sounds and influence from Iron Maiden, Dream Theatre, Paradise Lost, and countless others, and you have a small idea of what this band sounds like and is capable of. RED WARLOCK is simply a big breath of fresh air. Enough of killing dragons, claiming heavy metal victory, and hailing a god - RED WARLOCK goes straight for the jugular with powerful, classic heavy metal with a touch of evil.
Track One: Sabrewolf
Kicking things off is the title track, "Sabrewolf". Complete with soaring vocals, doomish bass, and heavy & at times melodic guitars, Red Warlock give a nice start to this promo album. The guitar solo mixes elements of Maiden and Dream Theatre. I can almost see this band as an Italian version of ICARUS WITCH.
Track Two: The Mark of Betrayal
The opening riffs in "Mark..." are both fast and interesting; I am reminded of RUNNING WILD. The chorus is very catchy and I can see this can definately be a crowd sing-along favorite. The scream in the middle of the song is both raw and powerful. The guitar solo reminds me of something I'd hear from YNGWIE meets LABYRINTH.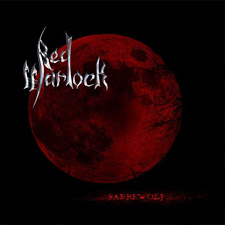 Track Three: Awakening
After some spoken word into, a very doomish and evil guitar melody is played. This song very quickly developes a dark and powerful vibe. The double bass drums work very well here. The backing vocals are strong and also work very well. Once again, the guitar solos rip and shred!!!!
Track Four: Endless Line
Track Five: Slave to the Master "Endless..." is the opening track that leads to "Slave..."
An Iron Maiden's "Waisting Love" sound opens this track. After some soulful vocals, the pace quickens with soaring vocals, some chugging guitar, and a beat you simply cannot ignor. The screams in this song are as fierce as ever, and the guitar solos once again show a full range of talent in both speed and composition. A FANTASTIC ending to a KILLER sample of greatness!!!!!!!
RATING: 9 of 10
MYSPACE PAGE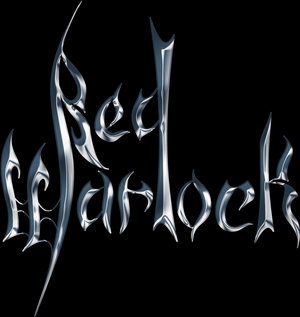 Review by - Anthony DeLuca

APATHY
A Decade of Violence
(c) 2009 Independent
New Jersey has seen it's share of great metal bands. OVERKILL, DEATHRASH, and WHIPLASH are three examples of the great Thrash Metal to come out of my home state. Add to the list APATHY. This band has tirelessly worked to create a MASSIVE debut album. Here are some key points of interest:
Throw out the idea that an unsigned band produces shit sounding records. APATHY has clearly taken the effort in giving the fans a nicely produced album.....something some larger bands lack. Content here is PACKED with pleanty of Thrash Metal to last - ten songs round out this debut gem. This is a clever nod to the album title, "A Decade of Violence". Here are some highlights:
Track One: Machine Gun Rain
Opening track, "Machine Gun Rain" waists NO time in the heavy department. Chugging guitars, pounding (I mean POUNDING) drums, and aggressive thrash vocals absolutely DEMAND you head bang. This track is a GREAT start to a very promising thash album.
Track Two: Disciples of Chaos
Throw in more melodic riffs and chugging guitar for "Disciples...". I really didn't like the time change with the muted guitar. To me, this sounds held back. I'm not sure what kind of effect or feeling Apathy was going for here, but this is my only complaint here, otherwise this song rocks!
Track Three: Plea of Mercy
"Plea..." follows in the same suite as the other two songs - fast, melodic Thrash Metal with evil, aggressive vocals. The guitar solos here are AMAZING. Many international bands should look to APATHY's example here. That example is the thrash hard!
Track Four: Era of Terror
I've always loved the chorus on this song. After hearing it's demo version, this latest version of "Era..." has both good and bad points. The melodic guitar is awesome. When the vocal lines "...In the Name of God..." are sung, I was left disappointed. The demo version of this song has an AWESOME scream of that line, yet it does not exist here. The edge in this song has been polished away too far. Sometimes, you have to leave a little grit.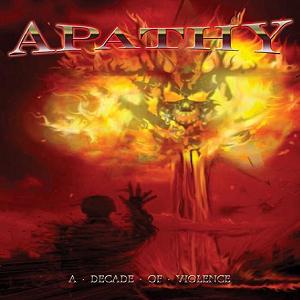 Track Five: Forever In Darkness
"Forever..." reminded me of ANTHRAX meets ATROPHY. The guitar riffs are heavy and melodic as hell here. The chugging guitar is pretty cool along the evil, demonic vocal effects. This song has a LOT of balls.
Track Six: Final Threat
The aggression continues in "Final Threat". I LOVE the angry vocals....this is a far cry from the demo version of this song. I also noticed a very polished up guitar solo. "Final..." has a lot of great elements that a killer Thrash Metal song should have. I've always seen this as APATHY's calling card, trademark song.
Track Seven: War Torn
Pounding drums - screaming, angry vocal - chugging guitar / riffs - repeat.
AWESOME guitar melodies here. The duel guitar work is in vein of MAIDEN. "War..." is an awesome, heavy song.
Track Eight: The Morning Past
METALLICA's "Nothing Else Matters" kind of rings in my ears a little when I listen to this song. Semi-acoustic guitar sets a dark and tranquil vibe here; a nice flexing of rounded skills for APATHY and much needed breather from the neck-breaking, heart pounding fast paced Thrash.
Track Nine: Born Into Pain
"Born..." is a very heavy and angry song. The guitar melodies have been polished up since the demo version of this song, and all I can say is WOW. Aggressive vocals really add power to this track, and the non-stop drumming makes me think Animal from the Muppets had something to do with the recording of this song......
Track Ten: Violent Nature
If a band could have two trademark songs, then "Violent Nature" is APATHY's second one! All the elements of a great Thrash Metal song exist here too. I really wanna break something while AND afte listening to this song. Purpose achieved!!!!!!
HEY RECORD COMPANIES....
Fucking sign APATHY. Seriously....WHAT THE FUCK!!! SIGN APATHY. SIGN APATHY. SIGN APATHY. SIGN APATHY. SIGN APATHY. SIGN APATHY. SIGN APATHY. SIGN APATHY. SIGN APATHY. SIGN APATHY. SIGN APATHY. SIGN APATHY. SIGN APATHY. SIGN APATHY. SIGN APATHY.
Cover art = FUCKING AWESOME. Thumbs DOWN for NOT using the official APATHY skull logo. DAMN IT GUYS!!!!!! Why???????
RATING: 9 of 10
MYSPACE PAGE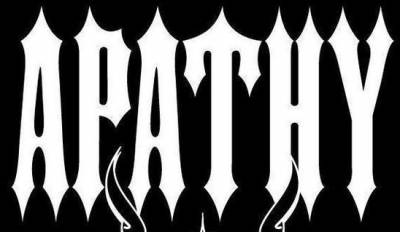 Review by - Anthony DeLuca

NIHILIST
Blood Portraits
(c) 2009 Independent
As if =Call Down The Thunder= didn't kick ENOUGH ass (see REVIEWS Record 2006), California's Thrash Metal Masters NIHILIST return with another ripping, thrashing metal assault that will leave you dead!!!
Track One: Metal and Mayhem
"Ladies and gentlemen....fucking Nihilst"
Speed Metal and Thrash Metal are practical brothers, if not two of the same. Nihilist captures the essence of Speed and Thrash and vocalizes the "Thash Metal Way" in "Metal and Mayhem". Fast, melodic guitar riffs, fast thunderung drums, and angry, aggressive vocals round this song about being a metalhead. True Metal bands sing about their feelings of metal with cheese like "Metal Forever", or "Heavy Metal Warriors", etc. Nihilist's take is let down your hair, cut off your sleeves, thrash, and have a fucking beer. Well put!!!!!!!!!!
Track Two: It's On
The chorus in this song is hysterical: "It's on....like a dog in heat....it's on....you can't stop me". Fast and heavy, "It's On" shows no mercy and delivers a comical metal punch sure to put a smile on your face. Congratulations.....you just got your ass kicked.
Track Three: Bastards Of Beer
Shut up....drink up. United in Beer!!!! Brother in our beer!!!!!!!! Melodic Thrash with a slight nod to TANKARD is the reoccuring theme in "Bastards of Beer". The chorus yells "Cheers", along with a clank of beer glasses. A lot of heavy, fast drumming and melodic, chugging guitar round this song. The raw sound of Loren's bass is awesome, especially in the short solo he plays right before the main guitar solo. The song ends with a single, loud burp. Killer!!!
Track Four: Hell's Son
I first heard this song on the "Rise of Evil" demo, and I was really happy to see "Hell's Son" see some light here. The chorus has a brutal yell, followed by "Hell's son, son of hell - you all shall die". The bass sounds raw and heavy again. Heavy power chords, melodic gutiar, and fast drums give this song a heavy edge. I really liked the spoken word right before the guitar solo.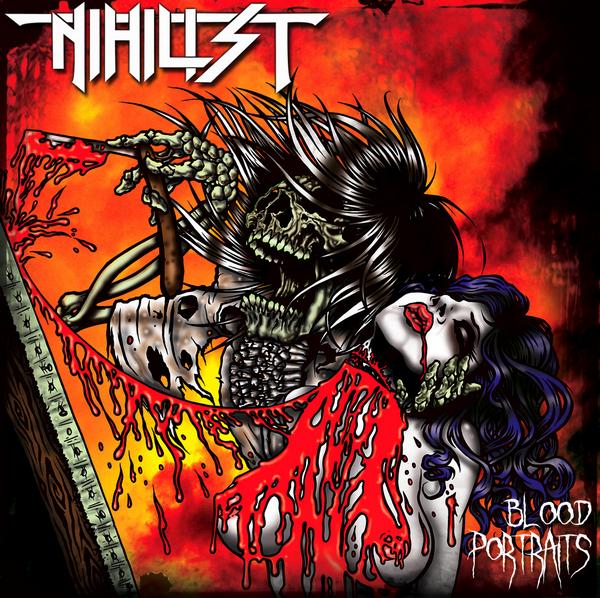 Track Five: House of the Dead
Some atmospheric keyboard kicks off this Thrash Metal masterpiece. The lyrics here remind me of the movie "Last House on the Left", and I'm guessing this song hints towards that movie. Blood, suffering, and an erased future all touch upon a person's final demise. Epic stuff, rounded out by another atmospheric keyboard outro.
Track Six: Ditch The Bitch
She's just a ball and chain, playing stupid games. Ever have someone get inside your head or wreck your life? Maybe there was that certain girlfriend that just needed to go? Drank all your booze; all your time she consumes? Listen to this song; it says it all!!
Track Seven: America's Bleeding
Opening with a Hendrix styled American anthem, "America's..." bursts into some Judas Priest style guitar chugging. Full of political and economical views, "America's..." a call to arms to stand up against the man. The gutiar riff is cool, the drums are fast, and the vocals are brutal. America is bleeding.....blood is everywhere.
Track Eight: Hesh Plow
What the fuck is a hesh plow????? I'm sure it's a skater term that basically means you don't give a fuck. So, the Hesh Plow is something I'd like to avoid. This song reminds me of pure Old School Metal; the kind of classic shit you don't really hear anymore. The kind of riffs and melodies that are simply amazing. Sometimes lyrics just have to go straight for the throat. The "Hesh Plow" does that!
Track Nine: Payment Upon Death
Awesome riffs and manic screaming build the structure of this killer Thrash masterpiece. Fierce drums, raw bass, riffing guitar, and aggressive vocals are abundant here. I must point out the killer drum work of Sean Elg here; simply amazing!!!!!!! Lyrics deal with someone exacting their revenge on some helpless victim. Metal!!!!
Track Ten: Blood Portraits
"It's Friday night at midnight; let's go and drink some beers...." are the opening vocal lines after a rancid scream in "Blood...". Loren Tipton's bass is fucking awesome here; this song is pure, raw energy. "I smash through the glass, high as can be.....buckets of blood rushing over me...". Pure insanity!!! The drums are insane again, and the solo rips!!!! This song has it all.
Album art = METAL!!!!!!!!!!!!! Blood, skulls, tits.....Reminds me of Sweeney Todd a bit.