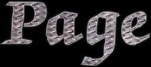 Out of Southern California finally comes a kick ass heavy metal band with real soul and emotionally driven performance.... Sedition is a band that is determined to break out of the crappy cookie cutter music scene that has pretty much killed any sort of originality with rocking music that has real feeling and is emotionally driven. We are a mix of Slayer, Pantera, old Metallica, and a little Pink Floyd thrown in for good measure.
Current Lineup:
Jacob Delgado - Vocals and rhythm guitar
Chris Corwin - Drums
Erik Brasher - Bass and recording technician
Currently looking for other members: Lead guitar and Keyboardist... send mail to sedition@thegrid.net if interested.
Influences:
The Beatles, Pink Floyd, Jethro Tull, Jimi Hendrix, Led Zeppelin, Black Sabbath, AC/DC, Iron Maiden, Sex Pistols, Older Metallica, Slayer, Faith No More, Pantera, Tool, Soundgarden, Alice In Chains, Deicide, Carcass, Death, Obituary, Morbid Angel, Unleashed, Sepultura, SoulFly, etc....
Sedition uses:
The band is currently woking on their debut release, but we have some demo samples on our Sounds Page.