Tracklist

Frost and Fire

I'm Alive

A Little Fire

What Does It Take

Edge of a Knife

Better Off Dead

Maybe That's Why

Cirith Ungol (live bonus track)

Credits

Tim Baker (vocals)

Jerry Fogle (guitars)

Greg Lindstrom (guitars, bass, synthesizer, vocals)

Michael "Flint" Vujea (bass) *


Robert Garven (drums, vocals)

Editions
Frost and Fire is the debut album by the heavy metal band Cirith Ungol. Its music is generally faster and more simplistic than that of King of the Dead, which saw the band adopt a doom metal style influenced heavily by progressive rock. The album was produced by Cirith Ungol. Originally released by Cirith Ungol on Liquid Flames Records in 1980, the album was re-released in 1981 by Enigma Records, re-released again along with King of the Dead on one CD by One Way Records in 1995, and finally re-released again in September 1999 on Metal Blade Records. A bootleg picture disc version of this LP, limited to 500 hand-numbered copies, also exists.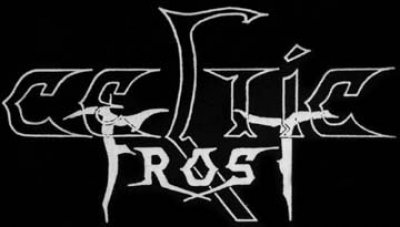 Fun fact: The legendary swiss black/thrash/experimental metal band Celtic Frost took their name from this album. They took the "Frost" from "Frost and Fire" and changed "Cirith" to "Celtic".
Of course we know about it. We even were supposed to play support for Celtic Frost shows in L.A., but their management didn't want us! Sad, because you must know that we were always better live than on LP, we have over 1000 gigs behind us!
-Robert Garven, Iron Pages interview 1994 (approx. translation from german)

The cover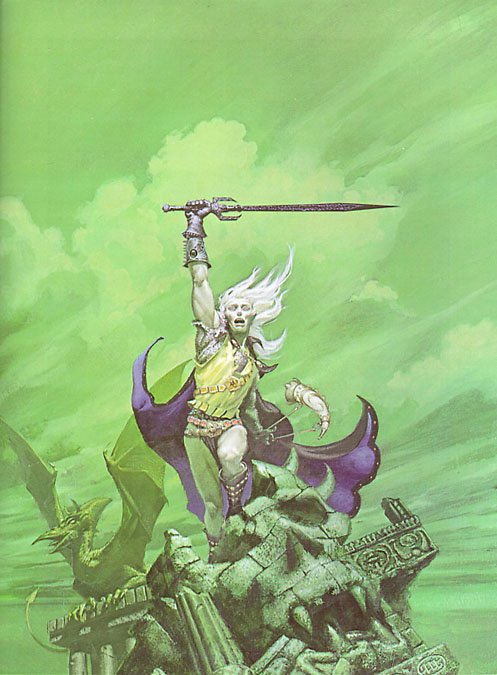 The coverart was created by Michael Whelan for Michael Moorcocks fantasy books. It is entitled "Stormbringer" and has inspired Deep Purple's "Stormbringer", Hawkwinds "The Chronicle of the Black Sword", Magnum's "Stormbringer", Blue Öyster Cult's Black Blade, Blind Guardian's "Fast to Madness" and many more.
At the time we wanted a "Sword and Sorcery" theme cover called "Berserker" by Frank Frazetta, a famous sword and sorcery artist, but it was taken by the country rock band MOLLY HATCHET! I was reading Stormbringer by Michael Moorcock at the time and was thinking, "man this is the ultimate cover art!" I never thought we could use it but I contacted the publisher who got me in touch with Michael Whelan, who is one of the few people in our entire music career who was honest, friendly and kind, and we got to use it. I think we were the first album cover he had done at the time and we really wanted to use all his Elric series on our covers which we did! I told him that I always wanted to buy the painting for
the cover of #1 (Stormbringer) from him if we made it big but we never did. He was quite successful then, but now he is probably the world foremost fantasy artist/painter/illustrator and his paintings cost a lot of money. It's funny, DEEP PURPLE had an album named after the book and we got the cover. BLUE OYSTER CULT also had a song, "Bane of the Black Sword" which was based on Michael Moorcock's writing.
-Robert Garven, Metal Nightmare interview 2000

To me, Elric is a classic anti-hero. He deplores all the evil in his world, and tries to fight against it, but in the end, he cannot overcome it and even unwittingly aids the forces of chaos.
-Greg Lindstrom, Tombstone interview 09/2001
The 1999-remaster has the title "Frost and Fire" on the front, as seen here.
The band in their own words
* A note about the credits

Actually, Michael didn't join the banduntil after we recorded the "Frost And Fire" album in December 1980. I played bass on that record, but we put Flint's name on the album so people would recognize him as a band member when they saw us live.
-Greg Lindstrom, interview by Patrick Lefevre
I wish we could have gotten a heavier sound, but were all still learning how to use the studio. We definitely would have liked to put "Last Laugh" and "Hype Performance" on the album, but we basically just ran out of money to pay for recording time. Remember, we paid for everything on "Frost And Fire" ourselves, from the recording time to the shrinkwrap.
-Greg Lindstrom, interview by Patrick Lefevre
I'm partial to F & F, I just wish we could have gotten a heavier sound on the album, but we were on a very limited budget and we were all still learning how to use the studio. The sound I imagined in my head was much heavier.
-Greg Lindstrom

We wanted to make it big, but all of our music was so heavy and dark, we thought we would use our most commercial material on Frost and Fire, so that we would get air time and stuff. Although all the lyrics and some of the music on Frost and Fire were written by Greg, almost all of our songs over the years were a collaborative effort, some times "I" would even hum out parts until we got it right. Everything had to be perfect, sometimes leading to fist fights over riffs. Anyway, it just turned out Greg's songs had the more commercial sound. After Frost and Fire came out it was only played a couple of times on the LA radio station KLOS because everyone said it was way too heavy..... So we figured FUCK IT!!! If they think that is heavy why are we holding back? Let's show them something really heavy!!! We wrote about thirty songs with Greg that have never been released, some not even on tape. It was only understandable that we put some on King of the Dead. Greg did not leave until after Frost and Fire, so we were writing songs up to the day he left.
-Robert Garven

The cover is painted by Michael Whelan and called Stormbringer. According to Greg, it is one of the best album covers.
One reviewer in Kerrang! called Frost And Fire the worst heavy metal album ever recorded! I think a lot of critics at the time just didn't know who to compare us to and tended to dismiss us. But the fan reaction from all over the world was great. Unfortunately, our albums didn't have very good distribution and were often hard to find in stores. And that's part of the reason I quit the band. I felt I had reached a turning point in my life after graduating college and spending 10 years in the band. It was more than a year after Frost and Fire had been released, and sales were decent, but nothing was really happening for us, and I felt it was time to move on, which I did with much regret.
-Greg Lindstrom



We used to walk around neighborhoods knocking on doors and offering to wash peoples' cars! The first 3000 copies of "Frost And Fire", as well as the recording costs were totally paid for by the band.
-Greg Lindstrom, The Corroseum interview



I think the confusion lies with "Frost & Fire", which we wrote to get noticed and popular and so it was intentionally all of our most accessible or radio friendly or commercial songs. We wrote and played heavier songs before and after but that album was meant to launch our career. Unfortunately it was considered too heavy by the radio stations in LA, and though it did receive much underground and college airplay it was not apparently what we needed to succeed. After Greg left we said well, why try to appease an audience that we were to heavy for anyway so we made a conscious effort to make the next album much heavier and gloomier.
-Robert Garven, Diabolical Conquest interview
Question: What are your ten most valuable records from a collectors view?
My ten remaining sealed copies of the original Frost & Fire LP on Liquid Flames Records! I'm not sure how valuable they are
-Greg Lindstrom, interview




1980, USA, EPIC/TRUE METAL WITH 70S VIBES AND MORE SOUL THAN SLY AND THE FAMILY STONE!
-Darkthrone, from their list of album recommendations in the booklet for the F.O.A.D. album.
The Tales that Speak of "Frost & Fire"
As co-founder and drummer of Cirith Ungol for 22 years I feel I need to respond to some of the reviews here.

A previous reviewer mentioned that "Frost & Fire" sounded thrown together. The real truth is that we had been in the band for 9 years already and "Frost & Fire" was our attempt to get "commercial" airplay and find success with what we considered some of our more accessable music and yes radio friendly music! When the local LA station KLOS played it once and considered it too heavy, we decided to go for broke with our second album and pulled out all the stops. I disagree with some of the reviewers and think Tim's singing is not only excellent here and that "Frost & Fire" has some of his best vocals. This album features his highest pitched and clearest singing. Anyone who does not call it sining has to compare it with some of todays death metal. "'Im Alive" was one of our all time best songs, which we started almost every set with. The LA Times said that Pearl Jams "Alive" was a blatant rip off of our song, which is debatable.

I also think the title track "Frost & Fire" is excellent with a great middle break and solo and that "Better off Dead" has a great bass line and some of Tim's greatest singing range. This is all said looking back with a historical view that only I of all the reviewers can comment on being there the whole time. Jerry's solos are amazing and his passing was very tragic and sad.

This album has to be listened to many times to appreciate the lyrics, songwriting and performance as a whole not separate parts and to understand as opposed to it being thrown together is was a calculated attempt to obtain a major label contract during a time that only bands with catchy songs that would get any radio airplay were signed. Although i think "King of the Dead" was more representative of the band I am most proud of this album because not only was it our first but it was graced by the unbelievable cover illustration of Michael Whelan's epic portrait of Elric of Melnibone holding Stormbringer high above his head. This was a dream of ours and after so many years of struggle it was our reality. And yes our music can never be worthy of this great artists work!

Considering we produced, self recorded and paid for the entire project and that we were one of if not the first independent band to put out their own album before the wave of indie productions during that time, I think "Frost & Fire" "King of the Dead" & "Servants of Chaos" are a mandatory listen.

That said "King of the Dead" is my favorite and the last album which we had total control over. I am proud that we are mentioned in the same breath as bands that were epic and hope you all appreciate what we were trying to acomplish at a time when only big label bands had any chance of distribution or airplay.

Unfortunately for you the listener you never got to hear the other 20 or so odd songs that never made it to print such as: "Half Past Human - A Quarter to Ape" & "Brutish Manchild" but then that is another story for another day............


Robert Garven
Ventura, CA
March 2008

Amazon-review (5 out of 5 stars)
---
---
---
---
---
---