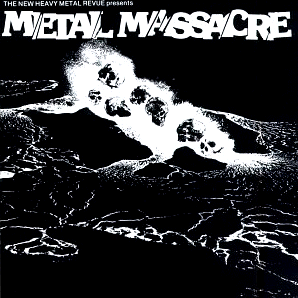 Various artists sampler album
LP: 01.06.1982 (Metal Blade; MBR 1001) [first pressing, ltd x10000]

LP: 1984 (Metal Blade; ?) [second pressinng]

CD: 1994 (Metal Blade; 3984-14041-2)
| | |
| --- | --- |
| 1 | "Cold Day in Hell" - Steeler (4:17) |
| 2 | "Live for the Whip" - Bitch (5:19) |
| 3 | "Captive of Light" - Malice (3:21) |
| 4 | "Tell The World" - Ratt (3:16) |
| 5 | "Octave" (instrumental) - Avatar (3:48) |
| 6 | "Death of the Sun ['82 version]" - Cirith Ungol (3:56) |
| 7 | "Dead of the Night" - Demon Flight (2:35) |
| 8 | "Fighting Backwards" - Pandemonium (3:44) |
| 9 | "Kick You Down" - Malice (4:28) |
| 10 | "Hit the Lights" - Metallica (Listed as Mettallica) (4:25) |
The New Heavy Metal Revue Presents Metal Massacre
This was the first record released on Metal Blade Records. The second pressing had a different tracklisting. Black 'n Blue's "Chains Around Heaven" replaced Steeler's "Cold Day In Hell", that had opened the original version of this compilation. Ratt's "Tell the World" was omitted. The Cirith Ungol-song is track #6 on 1st pressing and #5 on 2nd pressing. Death of the Sun is a different version than the one found on King of the Dead-album. The version of Hit the Lights by Metallica on the first and second edition are different versions.

Note: there's a common misconception that this album featured Cirith Ungol's first recording. This is not true, as they already had an album out. Frost and Fire was released already in 1980/1.

Brian [Slagel] was putting out his first album "Metal Massacre 1" and starting his own label Metal Blade Records. We were one of the first bands he chose.
-Robert Garven, Sleazegrinder interview
Who was on the first Metal Massacre release, and how did you find and choose those acts?

I just knew everybody in the scene. They would all just come to the record store. I knew pretty much everybody in the scene. It was Ratt, Steeler, Malice, Avatar, Cirith Ungol, Bitch and of course, Metallica.
-Brian Slagel, metalupdate.com-interview