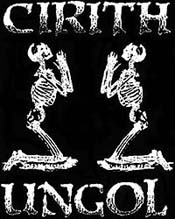 There are no boxset released or announced by Cirith Ungol!
Altough, Greg has been talking about possibilites for a upcoming boxset in recent interviews. Here is all information I've managed to gather about this possible boxset.














[Talking about the song "Show You All"] As a CU page note, Rob used to do an illustration for every set of lyrics we wrote. Someday when we get around to doing a CU box set we'll have to include all those illustrations.
-Greg Lindstrom, 21 Jan 2009
Rob's drawing for Show You All can be seen in the booklet for Falcon's Die Wontcha album.
Cirith Ungol played [Thin Lizzy] covers of "Gonna Creep Up On You", "Vagabonds Of The Western World", and "Return Of The Farmers Son" for quite a few years. I'm sure at least one of those songs will end up on the Cirith Ungol box set someday.
-Greg Lindstrom, 29 Mar 2009
box set coming
maybe around october-supposed to be the first 3 lp's plus dvd on live concert footage
-Tim Baker, 07/10 Jun 2011