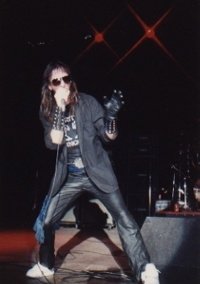 Unfortunately no official CU live album has been released. But...

A bunch of live recordings do exists, waiting to be released!

There were two live songs released as bonustracks for the 1999 remasters of the first two Cirith Ungol albums.

Even more live recordings were released on the Servants of Chaos compilation album

A official Live 7" EP was released by King Fowley in 1996.


A bunch of live videos has been published to Youtube by two former members.

Some bootleg live album exists.
Our next one will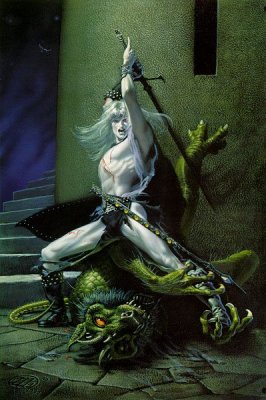 probably be a double live album. Shit, we might as well do one! I'm sure it will be piledrivin'!!!

Well, it's just that we're a lot more radical live than on record, man. 'Cause like Jerry goes totally wild! He goes nuts live. He plays shit like where my jaw drops on the floor!
-Tim Baker, Suck City interview 1986/7




In the future, we may have a custom cover done by Michael Whelan for a "live" album like Dragonslayer.
-Robert Garven, Heavy Metal Times 1983

The Elric-picture to the right is "Dragonslayer".
Stories from their liveshows
GREG: Aside from Tim rising up out of a coffin at the beginning of the show and battling a giant spider during "Shelob's Lair", it was pretty straightforward: Tim shrieking like a banshee, Jerry pulling incredible solos out of his flying V, Rob trying to reduce his drum kit to rubble, and Flint holding the chaos at bay with a wall of thunder.

ROB: Well we also used to do a song at the end of our set where everyone had a chance to do their big solos. In one part Greg would do the most unbelievable guitar solo, then Jerry would follow with an even more spectacular one, then they would appear together a play a double lead solo that would have literally raised the dead! Usually I would play along with the bass solo then I would play until my hands would bleed sometimes spraying the crowd with my precious bodily fluids, then we would end with this pounding ending that built up into a crescendo snapping at the end like a crack of a whip! Boy, I loved that part!!!!
-Blood of the Ancients Magazine 11/2002