The new record of At Vance will be out next February 2001. It´s titled "Dragonchaser" and follows the tradition of their great previous cd´s "No Escape" and "Heart Of Steel". Olaf Lenk, guitarist of the band, told us some more about this new album.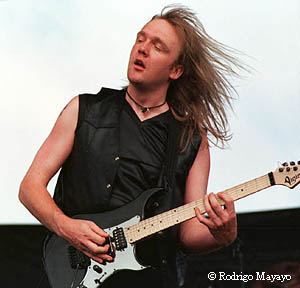 - Do you think is right to call your music "Neoclassic Metal"?
Yes, of course. I have a lot of classical influences in my playing as well as in my song writing.

- Last July you were playing in Spain for the first time, at the Rock Machina Festival, Which were your impressions about the spanish fans, the festival...?
The audience was great. They knew all the songs, so we had a great time playing there. We really enjoyed all of it.
- You´ve got a new homepage at www.At-Vance.com, How is it going, What kind of response it´s having?
It's amazing how many people are interested in our music and what's going on with the band. We really try to answer all the mails.
- There (in the homepage) you have included some songs from the new record "Dragonchaser", What have the fans told you about these songs, Have they liked them?
We have big response on these two tracks. It seems that everybody likes them. That's great. Lots of people have downloaded the songs.
- By the way, Have you set a release date for the new CD? and, What happened with your old record company, are you going to release the album with them?
The album is gonna be released in February 2001. It's the last album with the old company. Right now we're looking for a new deal.
- Besides a musician you´re also a teacher (right?), Do you teach your pupils using the songs of At Vance?, What do they think about your band, are they interested in Heavy Metal?
I teach them what they want to learn. The only thing I expect is dedication to the instrument. Some of them are real fans of the band, so I have to show them all the stuff. Others are more into different kinds of music.
- Lets talk about the new CD again, Do you have a cover for it?, Has it been made by Eric Philippe as the previous ones?
The cover is done by a young guy named Christoph Bersch. He's a real talent. Every song has its own picture.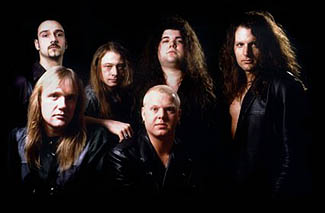 - Could you tell us the definitive track-list for "Dragonchaser"?
1. "Dragonchaser"
2. "Ages Of Glory"
3. "Heaven Can Wait"
4. "Two Kings"
5. "The Winner Takes It All"
6. "Bleeding Heart"
7. "Too Late"
8. "Crucified"
9. "Ases Death"
10. "Beethoven 5th Symphony"

- Will At Vance come back to Spain in the next tour? (We hope so...)
We'd love to come back to Spain and play live. It depends on the new record company, if they give us some kind of tour support. That's one reason why we wanna change the company, because the old one is too small.
- Which is for you the biggest inspiration for your music?
Besides classical music I see my main influences in bands like Deep Purple, Rainbow, Yngwie Malmsteen.
- How old were you when decided to be a guitar player?, What made you take that decision?
I started playing at the age of ten. I heard the "Made In Japan" album from Deep Purple and it changed my whole live from that day.
- O.K., that´s all. Do you have something special for your fans?
Many thanx to all our fans in Spain for their support and I'll promise that we come back to play kick ass live shows. 'Til then stay advanced...

- Interview by Gema Pérez & Rodrigo.
---