! -- Author: Petrakis Dimitris (slatan@mailexcite.com) -->
This file is old and is only used for seeing our old reviews. If you want to see the NEW ones, click HERE please. Thank you.
TOP RELEASES: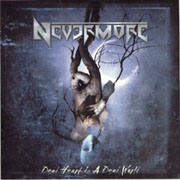 Nevermore - "Dead Heart In A Dead World"
(Century Media)
I cannot find the appropriate words to characterize the feelings that I have felt by listening to this pure masterpiece of art! One of the heaviest releases of the year, if not THE heaviest I have listened to... Everything that has to be combined, "Dead Heart..." has it! Perfect production, excellent structure, breath-taking razor-sharp guitar solos, unbelievably clever combinations of the aforementioned with tremendous melodies and "holy shit!" vocals!!! This release will convert your head to a never-stopping hammer!
11 immortal creations are waiting for you in this disc, plus two video clips: "Next In Line" & "What Tomorrow Knows"...
What? You are still reading this review? What are you waiting for?! IT'S ON THE FUCKIN' SHELVES OF EVERY DAMN METAL STORE ON THIS PLANET!!! GO AND BUY IT!!!!

9½/10
Dimitris "Slatan" Petrakis (slatan@excite.com)
_____________________________________________
ACID DEATH - "RANDOM'S MANIFEST"
(Black Lotus)
Are you Greek? Be proud of your scene! Bands like Acid Death make us proud with this album! "Random's Manifest" is the improved continuance of "Pieces Of Mankind". Following the paths of tecnhical and -brutal in parts- fast progressive death metal, this album includes 12 tracks characterized by distorted excellence! Totally in your face, measured, well-tied and perfectly performed... these veterans won't let you down! If you compare this album with "Pieces Of Mankind", you will distinguish the difference in the vocal section. Remarkable is their cooperation with the vocalist of ex-Fatal Morgana / ex-Retrospect, Leonidas Hatzimihalis in "In Sorrow" (epos!!!), "Random's Manifest (Part II)" where his "celestial" vocals are perfectly combined with Savvas' "underground" ones!
I really do not know what to talk about firstly! Every section is perfect... The drums: astonishing. The bass: breath-taking... the guitars: throat-cutting razor attacks! the vocals: Murder!!!
No more words are needed. BUY OR DIE!
Top tracks of this release: Listen to Psycho Love, Curse Of Flesh, Random's Manifest (Part II), Teach To Kill and believe it... 'cause it's TRUE!!!
9/10
Dimitris "Slatan" Petrakis
Click here to visit Acid Death's Official Web Of Annihilation
_____________________________________________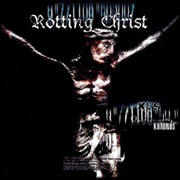 ROTTING CHRIST - "KHRONOS"


(Century Media)
After the dark hypnos in the cells of the underworld, "The Sleep Of The Angels", a new chapter fires the satanic continuance of Rotting Christ. Under the name "Khronos" (which means "Time" in Greek), 11 new songs and a cover will violate your inner cosmos with their aggressiveness, dark emotions, rawness and performing completeness and perfection. There are fast and mid-tempo songs. The second ones are very similar to the face of their previous release, while the rest include a new touch and feeling, as far as the melodic guitars and misty keyboards are concerned. The album was recorded in the northern Abyss studios by Sakis himself, while Peter Tägtgren is the responsible figure for the mixing part.
The album could pretty easily characterized as modern, since it meets all the appropriate requirements in order to offer the listener a dark journey in the curtains of time! So, enter this time-machine and explore new abyssal dimensions of dead worlds, lost throughout the millennia.
The only -for the writer- disappointment, might be the cover, as I have expected much more than that! However, I have to mention that it is made by Spyros Antoniou, vocalist of another pretty known Greek band, Septic Flesh.
Another thing that the writer would like to mention, is "Aeternatus". Great song, however, there has been a misunderstanding with the lyrics... doesn't matter anyway...
Personally, I believe that "Khronos" is an album that could be easily characterized as a lot better than "Sleep Of The Angels". If I was asked to distinguish a few songs from the new album, these would definitely be "Thou Art Blind", "Aeternatus" and "Fateless". Also, very interesting is the cover of Current 93's "Lucifer Over London".
I should not forget to mention that there is a very good secret keyboards track, hidden after "Glory Of Sadness", which is the 12th and last track of the album...
With objectivity
8,5/10
Dimitris "Slatan" Petrakis
_____________________________________________
R E V I E W S
| | | | |
| --- | --- | --- | --- |
| Beheaded | "Perpetual Mockery" | - | |
| Behemoth | "Satanica" | Avantgarde Music | |
| Behemoth | "Thelema.6" | Avantgarde Music | |
| Bewitched | "At The Gates Of Hell" | Osmose Productions | |
| Beyond Dawn | "Electric Sulking Machine" | Peaceville | |
| Bifrost | "Mithistory" | Hammerheart | |
| Black Steel | "Battle Call" | Self-liquidated | |
| Blind Guardian | "Nightfall In Middle Earth" | Virgin | |
| Blood Red Throne | "Deathmix 2000" | | |
| Brainstorm | "Ambiguity" | Metal Blade | |
| Bride of Chucky | Soundtrack (Various Artists) | CMC International / Steamhammer / SPV | |
| | | | |
| --- | --- | --- | --- |
| Buried Dreams | Perceptions | ? | |
| Cage | "Unveiled" | | |
| Cannibal Corpse | "Gallery Of Suicide" | Metal Blade | |
| Cannibal Corpse | "Bloodthirst" | Metal Blade | |
| Carnal Forge | "Firedemon" | Century Media | |
| Catamenia | "Halls Of Frozen North" | Massacre | |
| Centinex/ Devilry/ Frostmoon/ Ork | Centinex/ Devilry/ Frostmoon/ Ork | (Oskorei Productions) | |
| Council Of The Fallen | "Council Of The Fallen" | | |
| Cradle Of Filth | "Cruelty And The Beast" | Music For Nations | |
| Cradle Of Filth | "From The Cradle To Enslave" | Music For Nations | |
| Crematory | "Act Seven" | Nuclear Blast | |
| Criminal | "Dead Soul" | Metal Blade | |
victims where sacrificed on the ALTARS OF METAL since 3/7/1998